Awkward, weird, confused, lost. That's how you're going to feel when you first start sparring.
You've moved on from a stationary target to one that not only moves, but also hits back, and it's going take time to put it all together.
We've got lots of tips to help with sparring, but it's mostly going to be the time in the ring that will make you feel comfortable.
Fortunately, there's something that we can advise on that gets immediate results: picking the best sparring gloves.
Our buyer's guide will help with what to look for in sparring gloves, and we've also rounded up our top five picks. Let's get suited and booted!
Our Top 5 Best Boxing Sparring Gloves
Image
Product
Features
Price

IMF (Injected Molded Foam)
Pre-curved padding
Shock-absorbing capabilities
Full wrap around hook and loop closure

Check Price on Amazon

Made of premium synthetic leather
Breathable mesh on the palm
Soft, foamy cloth inner lining
Multi-layered foam padding
Pre-formed, good fit

Check Price on Amazon

Special design hook-and-loop wrist strap
100 percent Thai leather
Made of the highest quality cowhide leather

Check Price on Amazon

Stiff but does not hurt
Easy to break-in
Made with cowhide leather

Check Price on Amazon

PU leather construction
Great durability and performance
Enhanced shock absorption
Long-lasting hand protection
Safe customized fit

Check Price on Amazon
Scroll down to read full reviews!
Difference Between Sparring and Training Gloves
First off, know that there is a difference between true sparring gloves and general training gloves. However, most training gloves can also be used for sparring provided they're the right weight – more on that later.
The difference between the different types of gloves is found in the padding. Sparring gloves still safeguard your hands and wrists from impact injuries, but there is a greater focus on partner protection, and the padding is therefore softer and spongier than bag gloves.
If you use designated sparring gloves on the heavy bag, they'll become stiff and flat, and you risk ripping the soft leather. Once you break down the padding, your punches are going to feel like hammer blows and trust me, no one is going to want to spar with you. Sparring is a controlled fight situation, and the purpose is to learn and improve, not knock lumps out of each other.
Sparring intensity is often around 50% power, and there's little risk of injury at this intensity. However, in the run up to a fight, you will want to ramp the intensity up to 80% and beyond. Wearing proper sparring gloves and headgear will allow you to power up your punches while minimizing the risk of injury.
So, with an understanding of what sparring gloves are supposed to do, here's what I would look out for when buying sparring gloves.
Sparring Gloves Buyers Guide
Gotta Keep Protected
As we've touched on already, a good pair of sparring gloves must protect you first and foremost. They have to shield the small bones in your hand and wrist, defend against tendon and ligament damage, and prevent muscle sprains. But then they've also got the very important job of protecting your sparring buddy as well.
Add to mix the requirement to remain soft and spongy, yet be durable enough to last several years without wearing out, and you can start to see why sparring gloves are often the trickiest of all gloves to get right.
Low-end training gloves are very hit or miss when it comes to sparring as the foam is often too dense, or the gloves aren't compact enough, or poor construction leaves exposed stitching or loose straps that can graze or cut your partner.
Well-made sparring gloves, on the other hand, are constructed from materials that have good shock absorbing properties. The foam and gels used are capable of absorbing much of the impact force from punches while still allowing you to feel your shots and your partner to know he's been tagged.
When it comes to wrist support, the sleeve design should allow some rotation to allow you to curl your wrist slightly for solid hooks and uppercuts, and flick your wrist when parrying. The cuff should also be stiff enough to keep your wrist aligned with your arm when you're putting power behind your shots.
Padding and Shape
The padding has to have good impact resistance, but it shouldn't be overly bulky either. You'll be fighting with smaller gloves, and if you get used to covering with a large glove, you could be leaving gaps in your defense in the ring.
Bulky gloves will also mess with your accuracy and will make parrying more difficult. If you're sparring muay thai, your clinch will be cumbersome and loose with oversized gloves.
Also, consider the shape of the glove. Anything that's too square on the face will be sore on the receiving end.
Glove Weight – 16 OZ Minimum without Exception!
Just about every gym I've trained at insists on 16oz gloves minimum when sparring. Anything less and your shots are going to be way too hard – even when you're holding back.
You could get away with 14oz if you weigh less than 60kg, but for the sake of your partner, I would still opt for 16 oz. If you're pushing 85kg and beyond, then I would look into 18 or 20 oz gloves. People will be muchmore comfortable sparring with you knowing that there's a touch more padding on the end of those boulders.
Comfortable Throughout Training
No matter whether you're banging pads or having it out in the ring, your gloves should be comfortable to allow you to focus on the task at hand. Good gloves fit securely, mold to the shape of your hand, and allow you to make tight fist – given adequate breaking in time.
Top-end gloves will also keep your hands cool and deal with moisture adequately. No glove is going to remain bone dry throughout training, but you don't want your hand swishing and swashing against the liner.
I would also go with hook and loop over lace-up as the fit is just as tight and they're easy to take on and off.
Best Sparring Gloves for Boxing and Muay Thai
Before going to the full reviews, it's worth mentioning something…
Some coaches will advise to never use your heavy bag gloves for sparring and vice versa. However, most of us aren't in the position to go out and spend $300 on several pairs of gloves. Beginners especially want one pair of gloves that can do everything.
And there's absolutely nothing wrong with having only one pair of gloves. If you decide that combat sports are your thing, you can always expand your training kit in time.
With that in mind, we've included both gloves that are purpose-built for sparring and also general training gloves that are suitable for all types of training.
1. Ringside Pro Style IMF Tech Training Gloves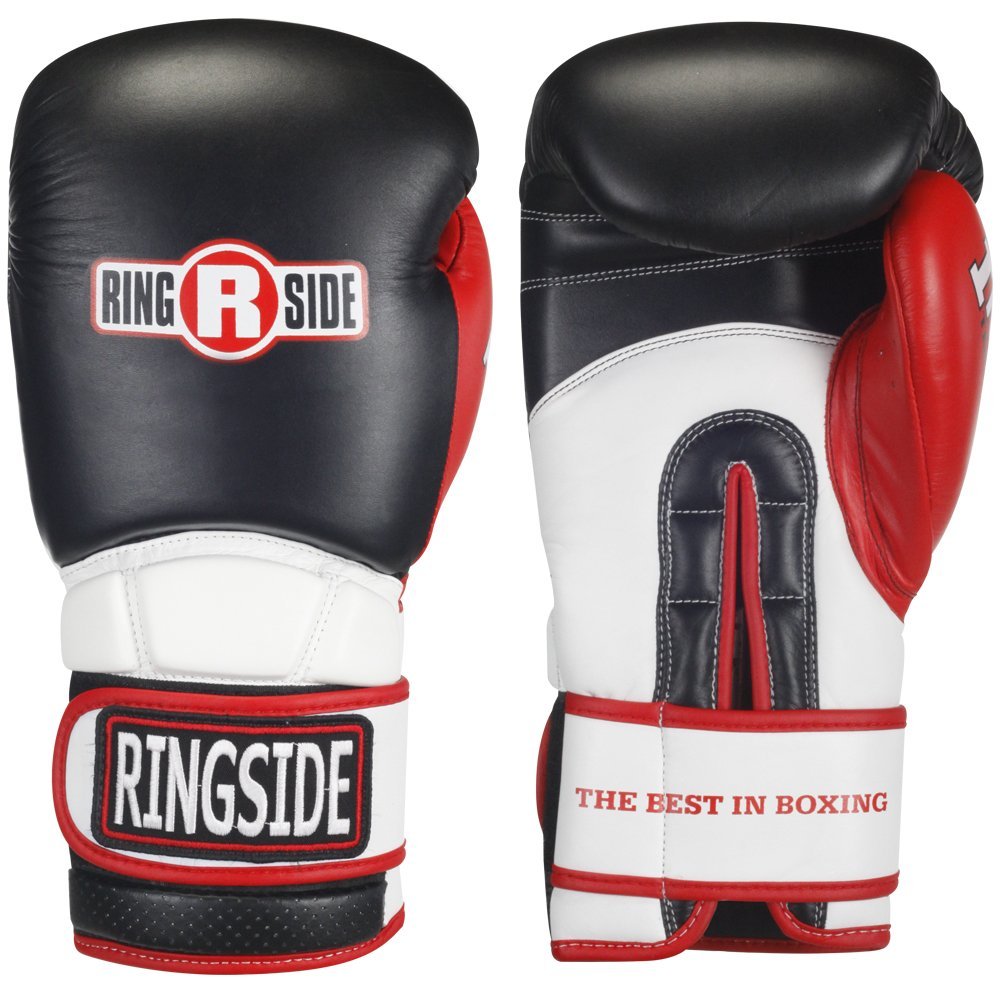 Ringside's IMF Tech Sparring Gloves get a lot of praise from fighters in the know. They are the perfect combination of flexibility, sturdiness, durability, and comfort, and they retail at a very reasonable price.
The pre-curved injection molded foam (IMF) provides the best protection to the hands while being forgiving on your partner. It ticks both the boxes for firmness for bagwork and softness for sparring, but they will last longer if they're only used for sparring.
The padding molds around your hand, which feels fantastic, but it does make the hand compartment small and the glove stiff, making it hard to open up your hand fully when parrying.
Ringside say there is no break in required, but these gloves will slacken off and be much more comfortable after they've been used a few times. The only other gripe is that there is not much in the way of ventilation.
The segmented cuff wraps around the forearm tightly, but it does allow a bit of movement at the wrist. However, the cuff extends quite far up the forearm providing stability to the wrist.
The gloves are stylish without resorting to an over-the-top design or gimmicky graphics, and the segmented cuff makes them stand out.
Overall, these are amazing gloves and our top pick.
CLICK HERE TO CHECK PRICE ON AMAZON
2. Rival High-Performance Hook-and-Loop Sparring Gloves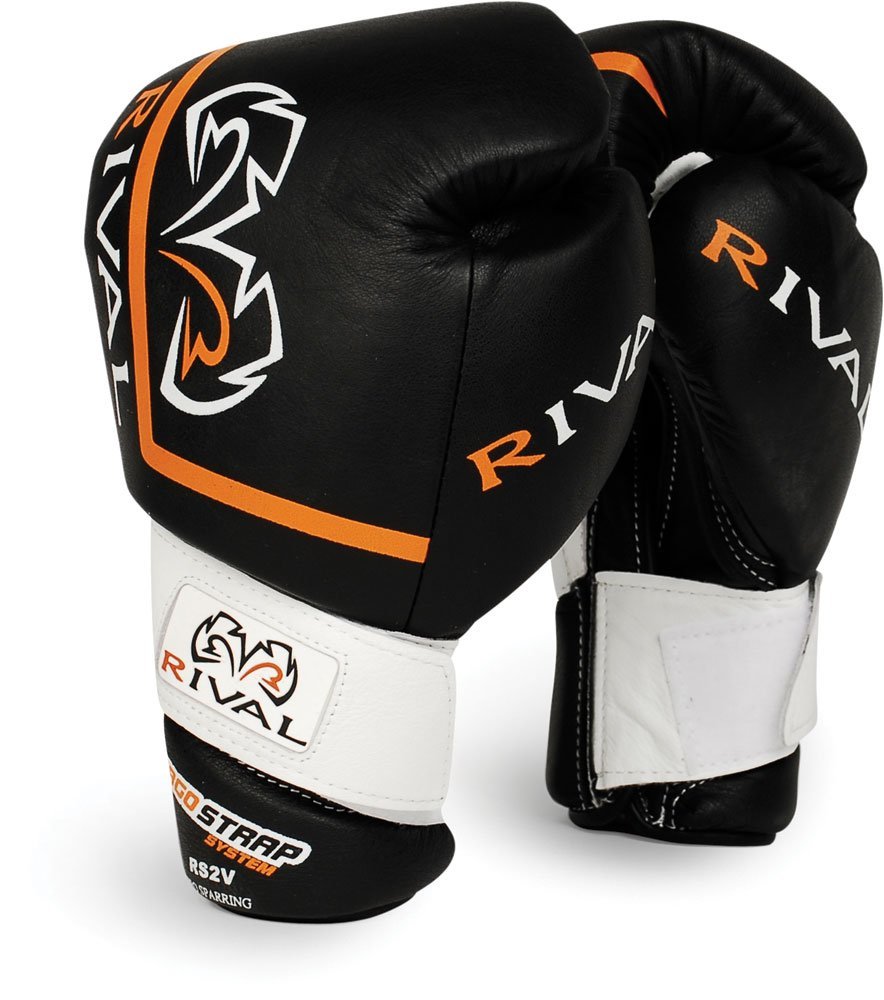 If you're looking for high-quality gloves, with sick aesthetics, and a design that offers outstanding support and performance, then the RS2V's are for you.
Featuring Rival's 15° Ergo Xtrem Strap System and an extended, reinforced cuff, the wrist support is one of the best on the market. They offer an extremely secure fit, but it can be a pain to glove up in a hurry, and there's a knack to putting them on by yourself.
1.75″ of compressed layered foam provides ample protection for you and the guys you're trading blows with. The padding is soft, so it's best to keep these gloves for sparring and get another set for your bag and mitt work.
The inside feels very comfortable, and unlike Ringside's IMF tech gloves, they offer a good fit for people with larger hands.
High-quality full grain leather ensures that these gloves will last for years with proper care.
Rival RS2V gloves offer fantastic value being fairly priced for top-end gloves custom designed for sparring.
CLICK HERE TO CHECK PRICE ON AMAZON
3. Twins Special Boxing Gloves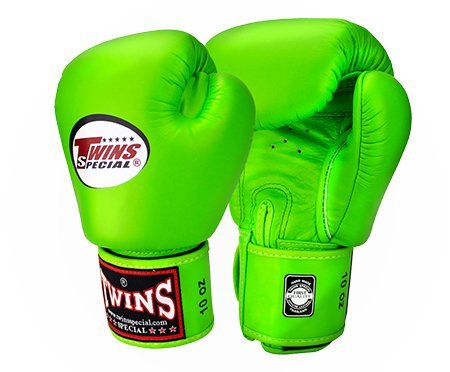 Twins gloves are better known in the thai boxing community, but there's no reason western style boxers should dismiss gloves from this world-class manufacturer.
These real leather gloves are made in Thailand, and like all Twins products, they have superb longevity and their finish is of the highest quality.
Generally, thai style gloves have a little extra padding on the back and blade of the hand to minimize damage when blocking kicks. This can be overemphasized, but Twins get it just right, and these gloves offer the ideal amount of protection without being overly bulky. There's enough cushioning to disperse the force, and when combined with solid wrist support, you can throw power shots at the bag in safety.
These are general purpose gloves – many will testify that they make wicked bag gloves – and if you're going to use them for sparring, make sure you go with at least 16 oz.
They are a little wider than Fairtex gloves (another well-known muay thai gear manufacturer) but are still compact enough to throw down tight combinations without getting in the way. Plus, many report that the padding in Fairtex gloves is much harder and not really suitable for sparring.
I've had two pairs of Twins gloves before, and both were tight to begin with. Allow a good four weeks to break them in, and they'll be the most comfortable gloves you've ever had.
Twins offer a no frills design, however, they do come in a wide range of colour options allowing you to fully express yourself or colour match with your thai shorts.
CLICK HERE TO CHECK PRICE ON AMAZON
4. RDX BGL T9 Training Gloves
The RDX BGL T9 gloves are a joy to train with and provide comfort and performance whether you're smashing the heavy bag or your mates. Three layers of foam and additional injected shock-absorbing gel on the knuckle region is extremely efficient at sucking up impact force.
And for triple cushioning, these gloves are remarkably compact. You won't have massive pillows when you're fighting in the ring or on the street, and it's best to get used to less padding when training.
They offer a snug fit, with comfort further increased by a mesh insert on the palm and a short cuff providing excellent ventilation.
The wide Velcro strap provides a secure fit and wrist strengthening while allowing just the right amount of maneuverability.
The BGL T9's are extremely well made with each glove being exactly on weight and symmetrical. And to finish it off, these gloves look fantastic, and a genuine leather finish will ensure they keep on looking good for years to come.
CLICK HERE TO CHECK PRICE ON AMAZON
5. Venum Challenger 2.0 Boxing Gloves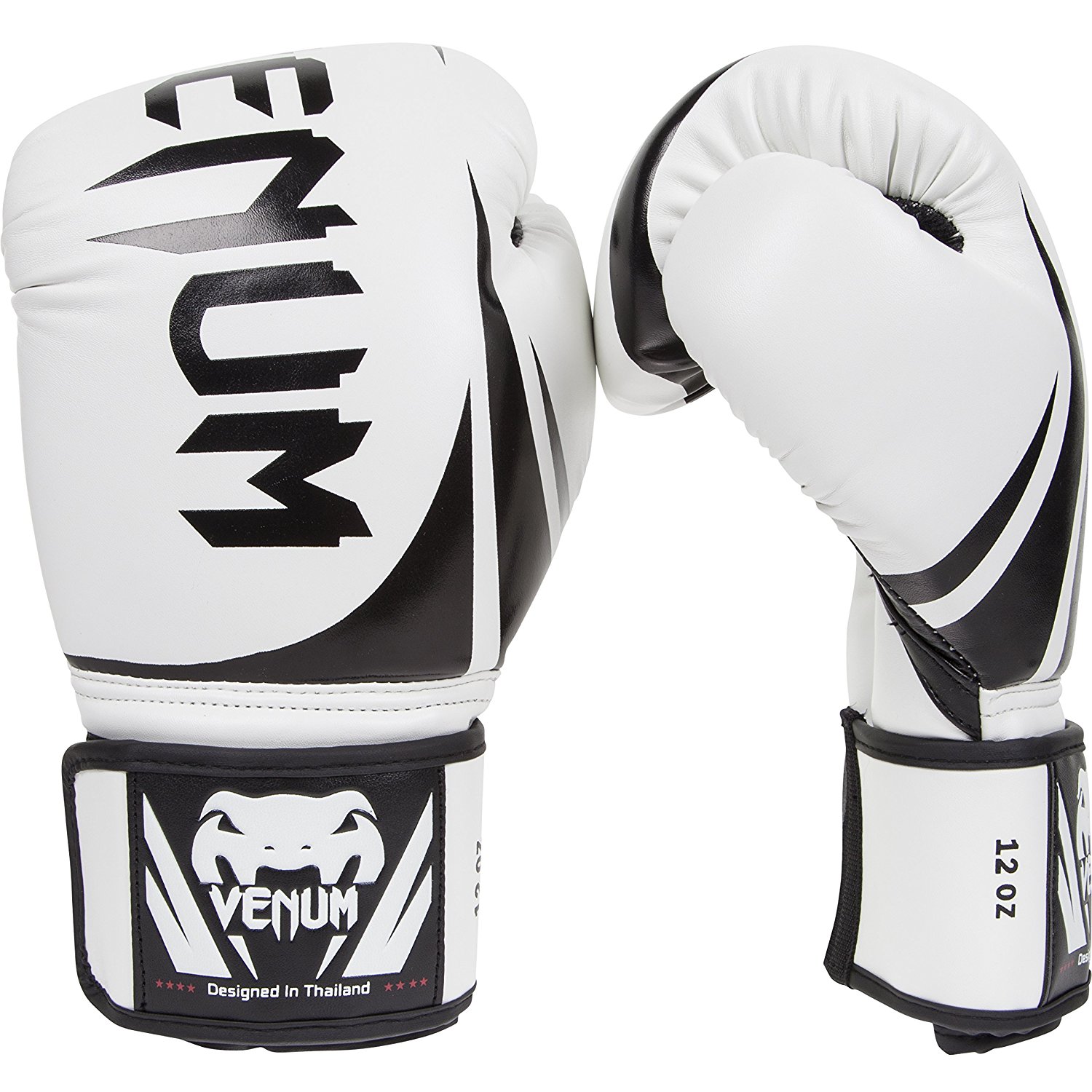 These general purpose training gloves are ideal for the budget conscious boxer who wants one pair of gloves that can be used for the punching bag, mitts, partner practice, and sparring.
They're synthetic leather, but still very durable and worth every cent. It's better to pay just $10-$20 more and avoid budget, no-name gloves or Everlast's low-end gloves that many newbs get suckered into buying.
Three layers of foam do a superb job of protecting the hands, while the stretchy Velcro wrist support provides a very secure fit and keeps the fist perfectly aligned with the arm.
The Challenger 2.0's score top marks in the aesthetics department. Some would say Venum's artwork is a little too eye-grabbing, but personally, I think they look awesome. The embossed Venum logo on the strap is equal parts attractive as it is intimidating.
A mesh palm and perforated holes keep your hands somewhat dry and cool.
In summary, the Challenger 2.0's are a good quality glove while being an economical choice with no noticeable compromise on quality or performance. They're excellent value for money, and you would find it tough to get a better quality glove without spending at least double what these gloves cost.