So, you've decided to take up pugilism? Lucky for you boxing is fairly inexpensive to get started. However, you're not going to get far without a good pair of boxing gloves.
You may or may not be aware that different gloves are used for the various training activities: bag work, sparring, fighting. And with each brand, there is an enormous difference in quality, fit, and functionality.
Picking a pair of gloves to suit your needs can quickly become confusing and overwhelming. That's why we created the ultimate boxing gloves buyers guide to guide you through the process.
However, if you're buying your first pair of gloves, the process should be way simpler. This post talks you through the key features of beginner gloves and also gives you a list of the best boxing gloves for beginners. Now, how's that for easy?
| Gloves | Type | Price | Rating |
| --- | --- | --- | --- |
| | All-purpose | $$ | |
| | All-purpose | $ | |
| | All-purpose | $ | |
| | Bag | $$ | |
| | Bag | $ | |
| | Bag | $$$ | |
Click to check price or scroll down to see reviews.
Which Type of Boxing Gloves Are Best for Beginners?
Not all boxing gloves are the same. Each type has different properties to suit what they're used for.
For example, bag gloves are designed to pound the heavy bag and absorb shocks, making them too solid for sparring. Sparring gloves are constructed from soft foam to minimize injuries when sparring, but their soft padding wears out quickly when they're used on the heavy bag.
Professional boxers therefore own multiple pairs of gloves for each training activity.​
If you're new to boxing, you may not want to fork out on multiple pairs of gloves. There's always the danger that they'll be chucked in the cupboard along with the karate suit, skateboard, and fishing rod.
As a beginner, you only really need a pair that will protect your hands and will allow you to get stuck in. A pair of general training gloves or bag gloves will do just that and you can always upgrade if you decide to get serious.
If you're training at a boxing gym and doing a mixture of mitt drills, bag work, and sparring, I would go with a pair of all-purpose training gloves.
If you're training at home and doing mostly bag work, then it makes sense to choose bag gloves.
Now, let's look at the differences between the two types of gloves.
All-purpose / Training Gloves
Training gloves are designed to be multi-functional and suit all activities.
If one set of gloves does it all, why bother with multiple pairs?
Well, it's actually quite difficult to get a pair of gloves that suit all tasks.
General training gloves try to service all needs, however, getting the balance of durability and softness right is difficult in practice. Most all-purpose gloves are either way too soft or too solid, and don't last when they're used for everything.
You should be aware that just because a manufacturer says their gloves are suitable for sparring does not make them so. You're club and/or coach will have the final say.​
Bag Gloves
Modern bag gloves are constructed from technologically advanced materials that have excellent shock absorbing properties. They offer superb wrist support – often with dual strapping systems – that keep the wrist firm and prevent sprains.
They are designed to go round after round on the heavy bag without wearing out quickly.​
It's worth splashing out on high-quality bag gloves that are comfortable, protect your hands, and are hard-wearing. You don't need to go top-of-the-line if you're a beginner, but trust me when I say that you don't want to go bottom of the market.
Cheap gloves will only need replacing in a few months when the stuffing is flat, and you're hands hurt.
Laces or Strap?
I personally think lace-up gloves look cooler, however, I always opt for Velcro for the convenience.
You can't tie laces by yourself, and if you don't have a training buddy, there's the potential for loose fitting gloves to lead to an injury.
Also, many Velcro strap gloves offer just as tight a fit as lace-up gloves. Save yourself the hassle of tying laces and go with quick and easy straps.
Glove Weight
The weight of your boxing gloves is determined by your body weight. The more you weigh, the heavier your gloves should be. The below table will help you select a pair of gloves based on your weight and what the gloves will be used for.
| Weight | Training Gloves | Sparring Gloves | Fighting Gloves |
| --- | --- | --- | --- |
| 120 lbs and under | 12 – 14 oz | 14 – 16 oz | 8 oz |
| 120 – 150 lbs | 14 – 16 oz | 16 – 18 oz | 8 – 10 oz |
| 150 – 180 lbs | 16 – 18 oz | 18 – 20 oz | 10 – 12 oz |
| 180 lbs and over | 18 oz + | 18 oz + | 12 oz |
However, if you're looking for one pair of gloves for everything, I would recommend going with 16 oz gloves.
16 oz gloves are an excellent training size for someone of average weight, and many gyms have a 16 oz minimum rule when it comes to sparring.
The 6 Best Boxing Gloves for Beginners
| Gloves | Type | Price | Rating |
| --- | --- | --- | --- |
| | All-purpose | $$ | |
| | All-purpose | $ | |
| | All-purpose | $ | |
| | Bag | $$ | |
| | Bag | $ | |
| | Bag | $$$ | |
Click to check price or scroll down to see reviews.
Title Pro Style Leather Training Gloves
Title is a name you can trust in boxing. Well-known for producing exceptional boxing equipment at reasonable prices, these leather training gloves stay true to the Title brand.
These gloves are at the budget end of Title gloves. They come with no frills and a very basic design. However, they offer the optimal blend of support and comfort while remaining very affordable, making them well suited for beginners.
Your hands and wrist are well-protected with layers of shock absorbing foam and firm wrist support. Solid construction and a full-grain leather exterior will ensure these gloves last. For budget gloves, the quality is superb.
Ringside Apex FTG1 Training Gloves
Ringside's Apex FTG1 gloves are professional quality training gloves with a beginner-friendly price tag.
They have a snazzy, eye-catching design that comes in any colour imaginable.
They are well-padded and have firm wrist support making them great for boxers that are still learning proper punching technique.
The only downside to these gloves is that they don't use full-grain leather, and their long-term durability is questionable. However, for the price, they still offer a great all –round training glove that is comfortable and performs well.
RDX BGX F4 Training Gloves
Featuring an interior gel lining, breathable mesh palm, and full-grain leather, the RDX F4's pack a lot of features into a very reasonably priced glove.
RDX have nailed it in the looks department, and these stylish gloves are sure to turn heads at the gym. However, their positive attributes don't stop at superficial looks.
Train with the F4's, and you'll be blown away by the support they provide to your hands and wrist, and how comfortable they feel – thanks to the gel lining which molds to shape your hand.
TITLE Gel World Bag Gloves
Title's gel bag gloves have it all; looks, durability, performance, and comfort. Their simple yet attractive design works well, and combined with their high-quality leather finish, these gloves have an air of professionalism.
The gel lining and multiple layers of foam padding provide superior shock-absorbing protection while delivering unbeatable comfort. You can hit as hard as you want and you won't be left with tender knuckles.
The gel lining also molds to the shape of your hand providing a snug fit comparable to custom-built gloves.
Title have got the ratio of quality to price just right, as these are an awesome pair of bag gloves that won't break the bank.
Ringside Gel Super Bag Gloves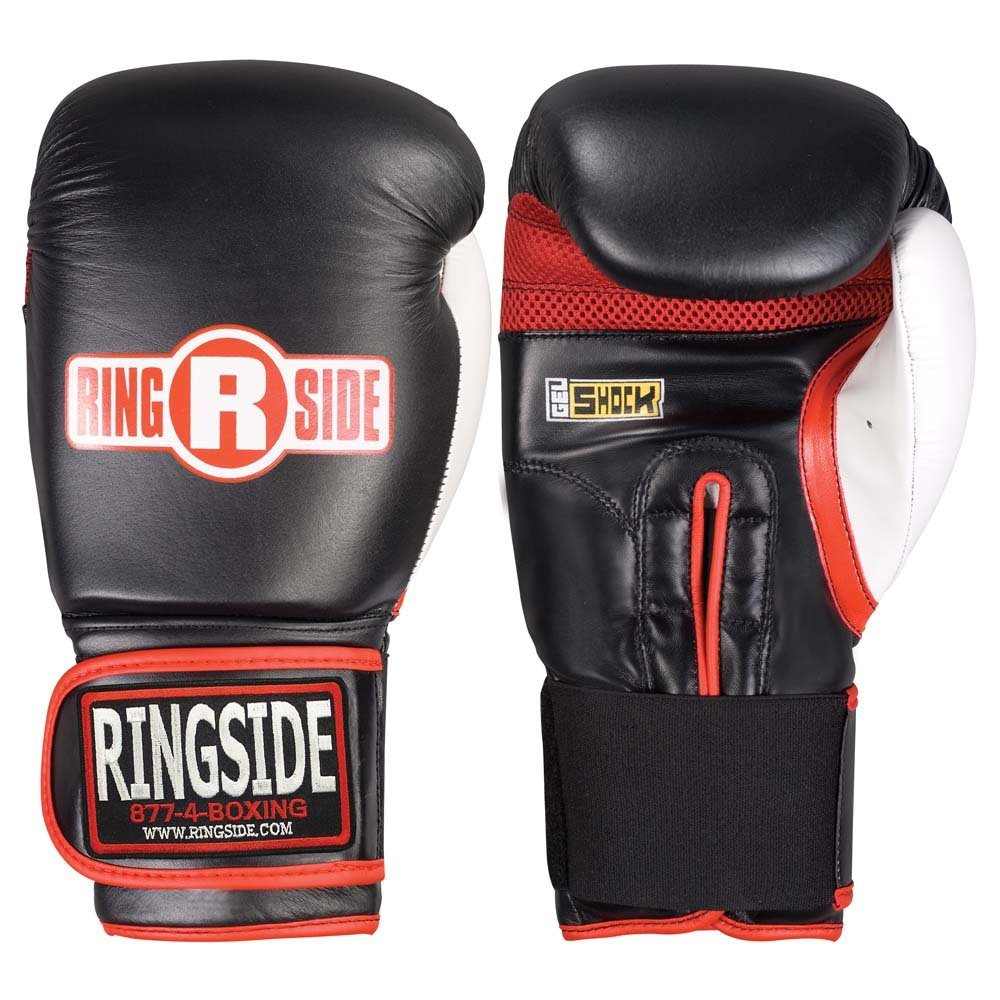 These gloves offer excellent hand protection featuring several layers of dense foam combined with shock-absorbing gel across the knuckle region. You can pound the heavy bag knowing that your hands are well protected.
Some of their other winning features include an elastic wrist strap for an extra secure fit, breathable mesh palm for airflow, and a genuine leather finish.
The only complaint with these gloves is that they are slightly tight – especially when new – and a breaking in period will definitely be required. Go with the large size even if you have average size hands.
Rival RB20 Elite Bag Gloves
The RB20's are Rival's mid-range bag gloves. However, they're still high-quality and trump many comparatively priced gloves with their impressive protection features and super-comfy fit.
They're made from full-grain leather with a visually striking design that is sure to grab eyeballs.
The support and padding features is where these gloves really stand out. They come with 1.75" of dense, layered foam providing ample protection for the hands, while the Ergo Xtrem Strap System features a 15° strap and long cuff for optimal wrist support.
The dual strapping system can be a little tricky to put on by yourself, but it's a small price to pay for total wrist safety.