Though ineffective at long range, the uppercut is a staple of inside fighting, allowing you to attack high-value targets like the chin and solar plexus from your opponent's blind spots. It's also one of the best ways to set up a big left hook, lifting the chin to be smashed sideways.
Needless to say, developing a powerful and educated uppercut will fast-track your knockout ability in the ring. And yet, deadly as it is, the uppercut remains the most neglected punch in boxing, partly because it's so tough to train; the same vertical impact angle that makes the uppercut so sneaky and effective also makes it nearly impossible to land on conventional heavy-bags.
Unsurprisingly, the best tool for the job is the uppercut bag, though deciding which style to choose from can be tricky. Our buyer's guide compares the training benefits of wall-mounted set-ups, horizontal heavy-bags, body-snatchers, water-filled "Aqua" tear-drops, and more to help you find what's right for you.
If you need specific recommendations, we've also rounded up our top five picks of the best uppercut bags of every style. Finally, if you're looking for ways to train the uppercut without a specialty bag, we share our best uppercut bag "workarounds."
Top 5 Best Uppercut Bags (All Styles)
| | 'Bad Boy Blue' Aqua Punching Bag | Combat Sports Double-End Heavy Bag | Ringside Uppercut Bag | Windy Wall Mounted Uppercut Bag | Ringside Body Snatcher Powerhide Bag |
| --- | --- | --- | --- | --- | --- |
| | | | | | |
| Type | Free swinging, teardrop bag | Free swinging, peanut bag | Free swinging, horizontal bag | Wall-mounted | Free-swinging, teardrop |
| Weight | 190 lbs (filled) | 45 lbs. | 55 lbs. | 32 lbs. | 75-80 lbs. |
| Additional Colours | red, black, orange, red/white/blue, purple | black/red | N/A | N/A | N/A |
| Size/Dimensions | 21″ | 34″ x 12″ x 9″ | 18″ x 36″ | 32″ x 16″ x 18″ | 23″ x 22.5″ x 22.5″ |
| Cover Material | Durable vinyl | Synthetic leather | Durable Powerhide | 100% Genuine Leather | Durable Powerhide |
| Our Rating | | | | | |
| Price | | | | | |
Free-Swinging vs. Wall-Mounted Bags: Pros and Cons
For the purposes of this buyer's guide, the term "free-swinging" refers to the Aqua Punching Bag, Combats Sports Double-End Bag, and Ringside Body Snatcher. Though it does hang from the ceiling, we've included the horizontal heavy-bag in the "wall-mounted" category because it does not swing.
Generally speaking, free-swinging uppercut bags are preferred because their pendulum motion simulates the movement of an opponent. This gives your workout more "bang for its buck" in terms of skill development, adding footwork, distance control, and defensive elements as you chase down, evade, and circle the moving target round after round.
Chris Eubank Jr. works free-swinging and wall-mounted uppercut bags in training.
That said, free-swinging bags aren't the best option for everyone. One major downside with free-swinging bags is that they can be difficult to install in certain home-gym setups. They're also not ideal for people with noise concerns, as they can be pretty loud compared to wall-mounted options. And while the skill-enhancing benefits of moving bags are great for fighters, this will be less important for those interested in finding the best uppercut bag for general fitness purposes.
Sure, free-swinging bags may be considered the "gold standard," but wall-mounted uppercut bags offer unique advantages of their own:
​

Space efficiency for better gym setups.

When hanging an uppercut bag, you'll need to factor in the space taken up by its swing. In contrast, wall-mounted bags take up very little room. This makes wall-mounted uppercut bags ideal for gym owners looking to create the maximum number of "work stations" with limited floor space.

Fixed reference points for footwork training.

Beginner boxers often struggle to wrap their head around the concept of creating angles and using side-steps to "get off the train tracks." This is where wall-mounted bags really shine: unlike free-swinging bags, the fixed position of the bag can be used as a reference point to tell the boxer whether they've stepped or pivoted enough to get off the attack line.
For example, you might plan to weave and step to your right after landing a big uppercut, moving you under a counter left hook and forcing the opponent to adjust. If you find yourself still in line with the bag after your weave, you know you haven't stepped off enough. In a fight or sparring situation, you'd be in trouble, but now you can identify your mistake and correct the habit in a safe environment!

Sport-specific targets for improved punch accuracy.

Most wall-mounted uppercut bags are made with special targets. Though designs vary, the best uppercut bags will place them to simulate high-value targets like the floating rib, spleen, liver, chin, and solar plexus. And while many sports-specific training features end up being expensive gimmicks, these are different – teaching yourself to place a hard shot on a small target has obvious carry-over to fighting! That said, this shouldn't be a major selling point, since you can easily draw, paint, or tape targets onto any bag you choose.
Paul Banasiak teaches you to target punches, kicks, and knees on the wall-mounted bag.
Top 5 Best Uppercut Bag Reviews: All Styles
Check out our picks for the best uppercut bag for every style. You can click on any image to compare prices and find additional user reviews on Amazon:
1. 'Bad Boy Blue' Aqua Punching Bag – Water-Filled, Free-Swinging
​Tear-drop, free-swinging, water-filled bag
Ships unfilled to save on S&H (190lbs. filled)
Includes shackle, garden hose filling nozzle, and stoppers
Protected by 2-year warranty
Available in multiple colours
Easy on the hands
Authentic hitting sensation
Made from durable vinyl
This might be the best uppercut bag for power development. Made of durable vinyl and weighing in at a monstrous 190-pounds when filled, this bag can take a beating without busting up your hands. The unique shell design and water filling create a sensation not unlike punching a real opponent, and it's soft enough to work barehanded.
Like the Ringside Body Snatcher, this bag can be hung at head height and treated like a supersized maize bag to practice slips, bobs, ducks, and weaves. Just be sure your technique is good – a 190-pound bag can really hurt!
Though some might be skeptical of any bag without a traditional leather exterior, the vinyl is preferable for many because it does not get nearly as slick when wet with water or sweat. It's also an incredibly tough material; the heavyweight's bombers at my gym can't make a dent in ours!
Amer Abdallah guts through uppercut punch-out drills on the Aqua Punching Bag.
The Aqua Punching Bag is also ideal for outdoor home-gym setups. Conventional uppercut bags use loose cloth filler that can get wet, moldy, and lopsided after a few rainy nights, but that's a nonissue with these rugged water-filled bags.
Water bags are also incredibly portable, weighing only about 15 pounds when empty, making them excellent options for road warriors. Find a tree and a hose (there's one included with your purchase!), and you can turn any outdoor space into a quality uppercut training station.
Best of all, this bag requires zero maintenance. You'll never need to flip your bags again since the water interior won't ever settle into the dreaded "cement block bottom" you get with conventional heavy bags.
2. Combat Sports Double-End Heavy-Bag – Free-Swinging Peanut Bag
Free-swinging double-end or "peanut" bag
Ships filled (45 lbs.)
Includes reinforced nylon straps and double-end attachment
Manufacturer's warranty available
Made from synthetic leather
Firm construction compared to conventional heavy-bag
Though not strictly an uppercut bag, the Combat Sports Double-End Heavy Bag's "peanut" shape provides the perfect target for uppercut impact work.
As its name suggests, this "double-end bag" is not designed with 100% power-punching in mind, but rather should be used to work on uppercut speed, placement, and accuracy. Nevertheless, weighing in at 45 pounds and firmer than traditional heavy bags, this model can withstand some big shots. However, it should be noted that, while strong, the synthetic leather exterior is not quite on par with the Aqua bag's vinyl in terms of durability.
Like a lighter double-end bag, this model comes with a hook attachment at the bottom that can be used to tether it to the floor. Setting the bag up in this way creates a rebound motion that can be used to work defense and counter-striking. Alternatively, you can leave the bottom unhooked and use the lighter bag's considerable swing to drill footwork.
One drawback with this bag is that it uses straps instead of chains to hang, which makes it difficult to adjust. However, you can work around this problem by adding a few links of the chain to the end.
IMPORTANT: This bag does not ship with any hanging materials, so be prepared to shell out a bit extra for S-hooks, chains, and the like.
Brandon Rios works a similar style of specialty "peanut" uppercut bag.
3. Ringside Uppercut Bag – Horizontal "Wall-Mounted"
​Hanging horizontal bag, not considered "free-swinging"
1″ foam layer padding to protect the hands
Ships filled (approximately 55 lbs.)
Heavy bag chain, S-hooks, & swivel are included
Durable Powerhide exterior
Suitable for all strikes (try working your knees from the "clinch"!)
This RINGSIDE product doesn't disappoint, offering great portability, durability, and different setup options to keep your training interesting.
As mentioned previously, the Ringside Uppercut Bag should be treated as a wall-mounted bag because it does not swing. This means it is not the best uppercut bag to use for reactive footwork training, though it can be used to practice cutting angles, side-stepping, and moving in and out of range. Moreover, the swivel attachment allows the bag to spin, which works as a swinging substitute.
Though this bag is tremendously durable, the S-hooks that ship with it can sometimes cause the bag to unhook, especially for our power-punching readers. To prevent this, we recommend buying some carabiner clips from your local department store.
Like most traditional heavy-bags, the interior can get a little lopsided, so be prepared to unhook it every few months to redistribute the filling. You don't need to open the bag to do this; you can simply punch into place, or turn the bag upside down and allow the contents to resettle.
If you're on a budget, you can buy this bag unfilled and stuff it yourself using old clothes.
Samir Seif shares a fantastic drill for hand control while "staying in the rabbit hole."
4. Windy Uppercut Bag – Wall-Mounted
Wall-mounted uppercut bag
100% Genuine leather construction
Dense foam protection for the hands
Easy installation (wall mount brackets included)
Handmade in Thailand
Highly space-efficient
Striking targets for accuracy training
Windy has released one of the best uppercut bags on the market. Decked out with specialty targets, noise-reducing foam, and a space-efficient design, this bag epitomizes the unique benefits of wall-mounted models we discussed earlier.
This bag is also beautifully crafted, featuring a stylized nak muay wearing a mongkol and classy Windy logo that doubles as a solar plexus target.
Like all of our other top picks, this bag's thick foam can take a serious pounding, and is workable with or without bag gloves. The high-quality leather exterior is extremely durable and tear-resistant, and the stitching can withstand the test of time (along with the violent pulling of a Thai plum!).
In addition to being highly space-efficient, this bag can be installed in a matter of minutes, making it a gym owner's dream​.
5. Ringside Body Snatcher Bag – Free-Swinging
Free-swinging "body snatcher" uppercut bag
Soft-filled to approximately 65-85 lbs.
Durable Powerhide construction
Chain and swivel included
Good movement for defensive development
This bag's wrecking ball appearance is a good indicator of the kind of punishment it can take. Aqua bag aside, you'll struggle to find anything that can take the heat that the Body Snatcher will endure.
Don't let the name fool you: the "body snatcher" bag can be hung at any height, and this is really the only difference between it and the "head hunter." When mounted high, this bag becomes a giant maize ball, though the shorter chain length makes its rhythm a little different than you'd get from the Aqua bag. That's not necessarily a bad thing, though; in fact, the shorter chain length might be a selling point to some, especially those with limited gym space to work with.
Like other soft-filled bags, the Body Snatcher does require a bit of maintenance. Unlike a vertical heavy-bag, the filling will not shift to the bottom and settle. Instead, barrages of punches gradually beat the stuffing inwards over time, which can create some loose, semi-unfilled areas near the bag's corners and edges. to prevent this, you can lay your bag out on puzzle foam interlock or a yoga mat and roll it around. Note that this is a preventative maintenance tip that will not work if the damage is already done!
Best Uppercut Bag Workarounds: 4 Equipment-Free Options
No uppercut bag? No problem!
We've gathered some of the best uppercut bag workarounds below. Read on to learn how to train boxing's most effective and neglected punch without any specialty equipment!
1. Aim to miss the heavy-bag
​The vertical impact angle of the uppercut doesn't really work on a vertical heavy-bag, so trainers often advise their fighters to intentionally miss. Rather than hitting the bag, they make contact with an imaginary opponent's chin, then follow-up with power hooks and crosses.
Floyd Mayweather demonstrates ahead of his showdown (mismatch?) with Conor McGregor:
As you can see, this uppercut training style is more about learning to "lift the chin" then bomb away with the rest of the combination.
This is also how Kenny Weldon instructs his fighters to train the uppercut, as seen in his Becoming a Better Boxer DVD series. Weldon uses the cue of "hitting the bag with the forearm" to ensure proper follow-through:
2. Embrace the "shovel uppercut"
If you're looking for an impact training option for your uppercuts, throwing "shovel punch" style shots is a great workaround. While different from a traditional uppercut that strikes with a vertical impact angle, the technique is very similar. And unlike the traditional uppercut, this version can be effective from mid-to-long range, given the right circumstances and setup.
Justine Fortune demonstrates the left and right "shovel uppercut" on the heavy-bag in Freddie Roach's Fundamentals of Boxing videos:
​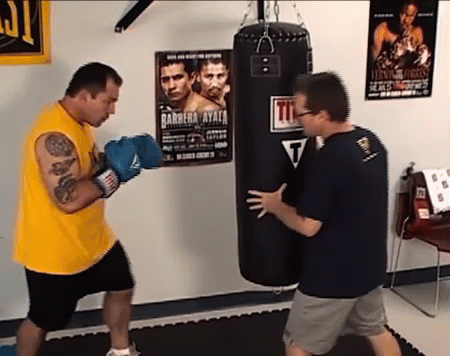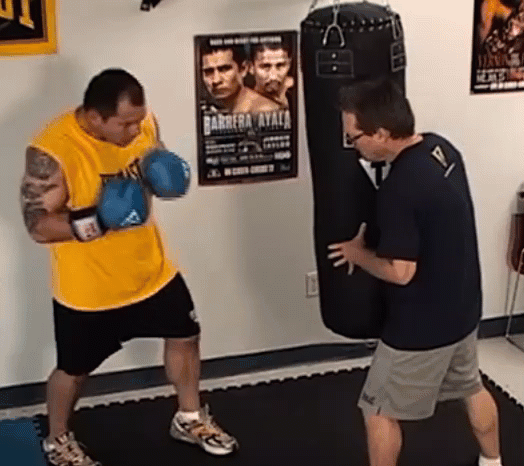 3. Put your partner to work!
The third and final option recommended today requires a partner who's not afraid of a little hard work…
This workaround is simple: get your partner to hold the heavy-bag at a 45-degree angle, then start working your uppercuts on this near-horizontal target. A Million Styles Boxing, Robert Berridge, and Nick Frese demonstrate:
Not only is this drill one of the best upper bag workarounds out there, but it's a great full-body conditioning exercise for the holder, with tremendous carry-over for getting physical on the inside.
4. When all else fails, hit the mitts
​One of the most obvious uppercut bag workarounds is simply to hit mitts (or gloves, or even bare hands) with a partner. Our beginner's guide to focus mitts will come in handy here.
Wrapping Up
The uppercut is neglected in boxing gyms around the world, which is all the more reason to practice yours. Since so few boxers throw it with any regularity, even fewer know how to properly defend it.Developing your uppercut will fast-track your knockout abilities, so get cracking!
On behalf of the Warrior Punch team, I hope our buyer's guide helps you find which style of bag is right for you. And if you aren't in the market for an uppercut bag, here's hoping that our equipment-free workarounds come in handy. If you have any additional questions or need further help finding the best uppercut bag for your gym, drop me a line ​on Facebook.
​