The heavy bag is fundamental to a boxer's skill development. It provides a tough, stamina-building workout while also allowing you to hone your punching technique and practice combinations.
That being said, training on a punching bag can't beat face-to-face training or sparring for skill development. Nothing can. But it will keep you sharp and fighting fit, and will ensure you don't get your ass handed to you next time you spar.
If you're looking to practice your skills at home, the heavy bag is going to take front and center stage of your home gym. It is the single most important piece of boxing equipment besides your gloves.
You, therefore, want a heavy bag that is high-quality, durable, and comfortable to hit. Whether you're looking for value, function, or top-rated bags, our list will ensure you get the best heavy bag for your needs.
Our Pick of the Best Heavy Bags
#8

Ringside 65 lb

#7

Century Hydrocore

#6

Everlast C3 Foam

#5

Title Classic 150 lb

Weight

65 lbs

70 lbs / 100 lbs

100 lbs

150 lbs

Dimensions

14″ x 42″

13″ x 50″

14″ x 48″

18″ x 48″

Cover Material

Leather

Vinyl

Polycanvas

Leather

Fill Materials

IMF Tech Foam

3″ foam covering water bladder

Synthetic fibre, sand, and C3 Foam

Professionally stuffed

Our Rating

Price
#4

Combat Sports 45 lb

#3

Fairtex Cross 100 lb

#2

Outslayer Muay Thai

#1

Outslayer MMA

Weight

45 lbs

100 lbs

130 lbs

100 lbs

Dimensions

12″ top, 9″ base x 34″

13″ x 72″

14″ x 72″

14″ x 55″

Cover Material

Synthetic Leather

Synthetic Leather

Vinyl

Vinyl

Fill Materials

Professional Stuffing

Fairtex Stuffing

Fabric

Fabric

Our Rating

Price
1. Ringside Leather 65lb Bag – Soft Filled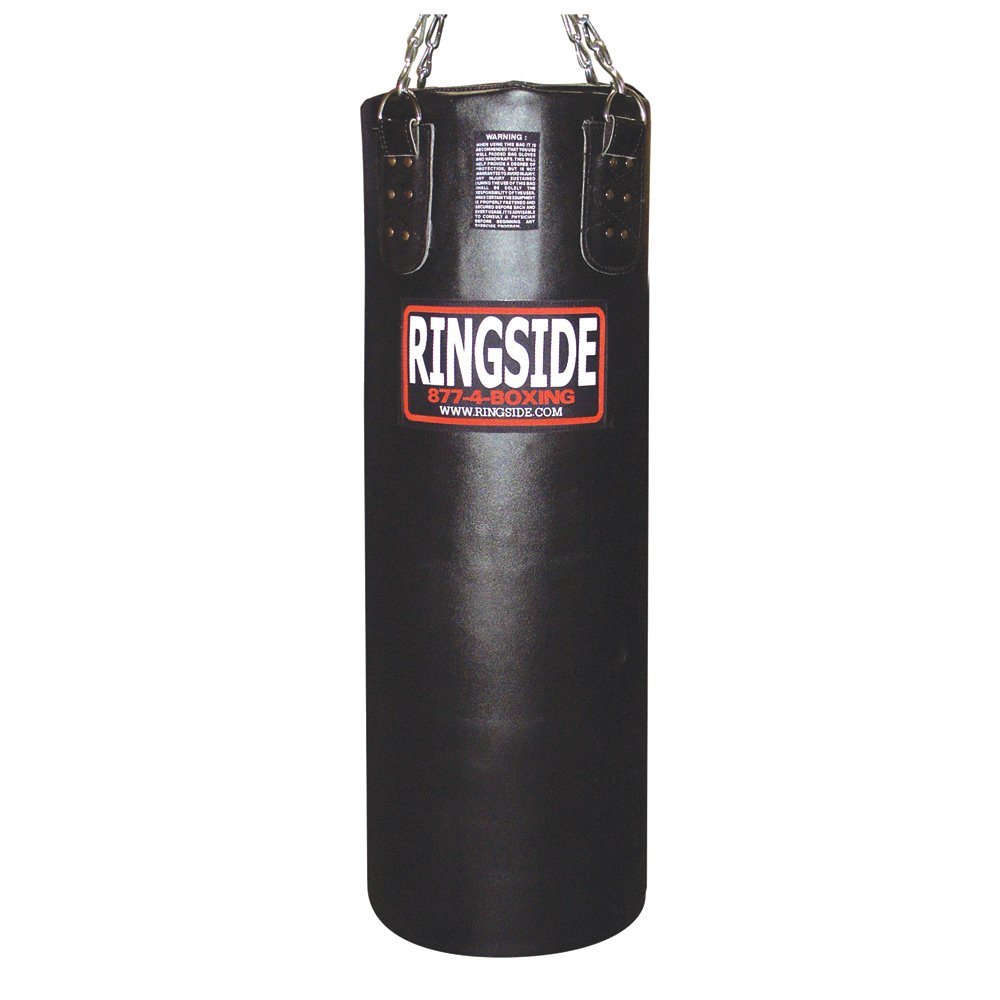 Heavy bag chain and swivel included
Soft 2" foam liner
Durable construction. Made from real leather
Reduced muscle strain and authentic hitting sensation
Ringside is an established and trusted brand in the boxing world. They've been producing top-quality boxing equipment for decades. This heavy bag showcases Ringside's talent being incredibly sturdy and comfortable to use.
The molded foam used to layer the inner of this heavy bag is the same IMF Tech injected foam Ringside use in their Apex boxing gloves. It has excellent shock-absorbing properties and will protect your joints from harsh impact.
Hitting the bag has a nice feel to it. Instead of feeling like you're hitting a brick wall (like with sand-filled bags), the foam padding makes it feel like you're hitting a real live opponent. Despite the soft feeling, the bag allows you to punch hard while ensuring you don't damage your hands or wrists.
The bag skin is made of real leather and won't tear or graze easily.
>> CLICK HERE TO READ MORE REVIEWS AND CHECK PRICE <<
2. Century Original Hydrocore Wave Bag (70lb/100lb)
Built to last – lifetime warranty
3" foam covering water bladder for maximum impact absorption
Unique sensation. Responsiveness of the bag feels like hitting a real opponent
Screw top allows easy filling
The Hydrocore innovation in this bag is entirely customizable – fill it up with as little or as much water as you want for differing levels of weight resistance. This quality makes the bag ideal for a boxer who is progressing through levels rapidly.
If you've never used a water bag before, you'll be pleasantly surprised at the amount of "life" this bag has in it. The impact feels responsive and a million miles apart from the dull sensation of a traditional heavy bag.
There's also the advantage that the filling won't settle over time. There's nothing worse than hitting a heavy bag that is full of air at the top and rock-solid at the bottom. This won't be a problem with the Hydrocore Wave bag as the water and foam distribute the resistance evenly along the length of the bag.
Some people are hesitant about water bags rupturing. However, the Century bag comes with a lifetime warranty, and you'll get a replacement bag in the unlikely event that there is a leak.
The vinyl covering ensures the longevity of the bag exterior.
>> CLICK HERE TO READ MORE REVIEWS AND CHECK PRICE <<
3. Everlast C3 Foam Heavy Bag (100 lbs)
C3 foam technology provides a safe and comfortable impact
Durable polycanvas exterior
Sand and synthetic fiber filling provides an even feel
Comes with tough nylon straps and double end attachment
The Everlast C3 Foam bag is filled with a blend of sand and synthetic fiber that provides good resistance yet has enough flexibility not to cause an injury. The core of the bag is encased in a ¼" of contoured close cell foam (C3) for added padding where you need it most. The two layers and combinations of different materials do an excellent job of absorbing and dispersing force.
If you're a big hitter, anchor the bag down with the double-end attachment, and you'll be able to go as hard as you like without fear of injuring yourself.
The bag exterior is made from Everlast's "Nevatear" fabric which is a "layered matrix of synthetic leather and webbed vinyl". The composite material is designed for heavy-duty professional use and is extremely durable. However, the drawback of the poly canvas covering is that you'll have to land your strikes correctly to avoid scraping your knuckles and elbows.
Another neat feature is the built-in nylon straps for hanging the bag. No more hunting for chains and swivel attachments to fit your bag – once you've got the bag and stand, you're good to go.
>> CLICK HERE TO READ MORE REVIEWS AND CHECK PRICE <<
4. TITLE Leather 150lbs Classic Heavy Bag
Genuine, extra-thick leather
Large 18" x 48" size
Includes D-ring for fixing to the floor
Huge impact resistance
Chain and swivel included
It's gotta be said: this heavy bag is HARDCORE! Title's classic heavy bag is a colossal 150 pounds and is going to provide one hell of a workout no matter how fit and strong you are. If you've got fists like sledgehammers and want a bag that's going to stand up to your punishment, then this here is your bag.
The bag interior has a foam liner which is then professionally stuffed with materials that provide the perfect mixture of resistance and cushioning. The leather exterior is made from top-quality cowhide and is bound together with tight, heavy-duty stitching.
In summary, this heavy bag is tough as nails. It will be the only bag you'll ever need as it continues to withstand beating after beating for years to come.
>> CLICK HERE TO READ MORE REVIEWS AND CHECK PRICE <<
5. Combat Sports Double-End Heavy Bag (45 lbs)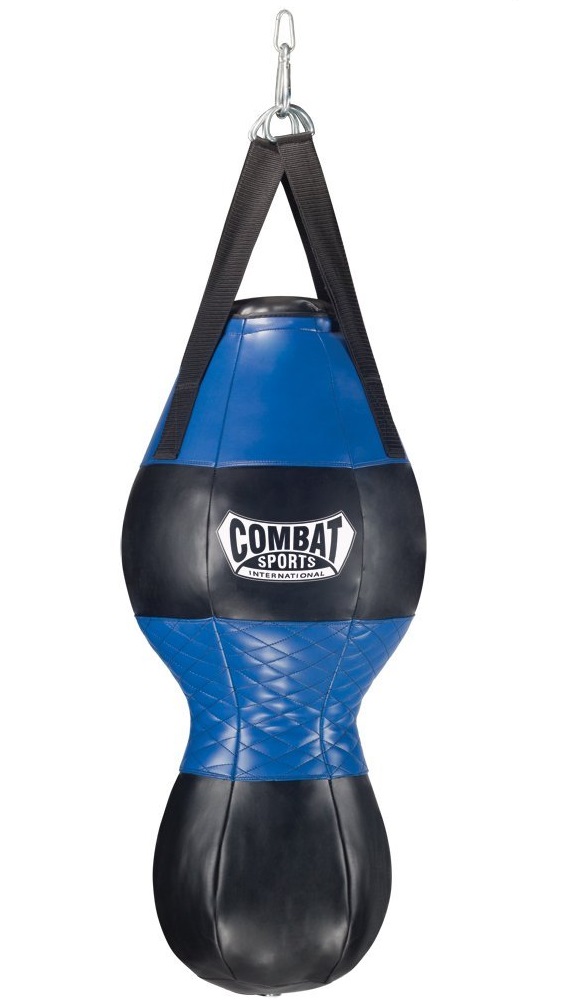 Great for hooks and uppercuts
Built-in, reinforced nylon straps and double-end attachment
Durable synthetic leather exterior
The double-bulge shape of this bag allows you to practice uppercuts and hooks with ease. It's great if you want to focus on working your angles as the curved surfaces of the bag provide a nice target area for your strikes.
The Combat Sports double-end bag is unlike a heavy bag in the traditional sense, but it is heavier than other double-end bags that are used for developing speed and accuracy.
Its lightweight nature will allow you to practice your footwork as you move in and out of striking range as the bag swings.
It does come with an anchoring attachment on its underside that will reduce some of the momentum; but personally, I would still prefer if it was a little heavier.
The only other gripe with this bag is that the nylon straps don't allow you to adjust the height of the bag.
>> CLICK HERE TO READ MORE REVIEWS AND CHECK PRICE <<
6. Fairtex Cross-Training Bag (100 lbs)
Chains and swivel attachment included
Practice a wide variety of strikes
Fairtex is recognized globally as being one of the leading manufacturers of muay thai equipment. Everything Fairtex produces is lovingly hand-crafted in Thailand and is supremely durable.
That's why the Fairtex HB12 cross-training bag takes the number three spot on our best heavy bag list even though it's not strictly a boxing bag.
At 72", this bag is longer than your average heavy bag, as it's designed to be kicked as well. The long length and angled surface allow you to practice every type of strike in muay thai and boxing.
At around the $350 mark, this is the most expensive bag on this list. However, you can be assured that this is a one-off purchase, and you'll never have to replace this bag.
>> CLICK HERE TO READ MORE REVIEWS AND CHECK PRICE <<
7. Outslayer Muay Thai Heavy Punching Bag (130 lbs)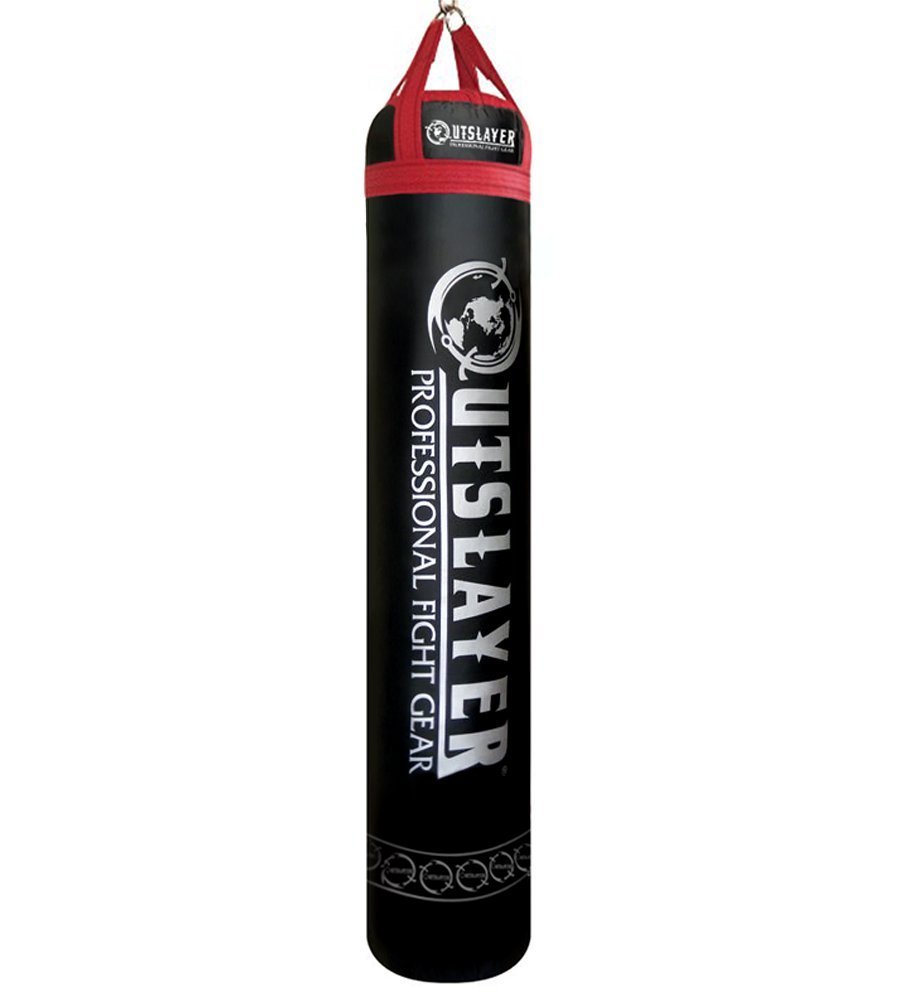 Ultra-tough construction – guaranteed to last
Six foot bag allows kicks as well as punches
Four Built-in nylon straps and D-ring for easy hanging
Made in USA
Under warranty for 10 years!
Although this is another bag that is designed for kicks, it's still one hell of a punch bag. The 6' tall Outslayer bag will allow muay thai and MMA fans to practice their whole arsenal of strikes from low kicks to punches.
The bag is filled with fabric so that the density will remain consistent, and you won't be left with voids and solid spots in six months' time. The filling material isn't too hard or too soft, and you can give the bag a hammering without injuring yourself.
Outslayer is known for producing extremely high-quality products. All their merchandise is manufactured in the USA and uses only the toughest of materials. Outslayer is that confident in the longevity of their products that each bag comes with a 10 year warranty!
The bag is equipped with four nylon straps and D-rings for hanging. A D-ring can also be attached to the base of the bag upon request at no extra charge.
>> CLICK HERE TO READ MORE REVIEWS AND CHECK PRICE <<
8. Outslayer Boxing MMA 100lbs Heavy Bag
Designed for heavy-duty, professional use
Good density and consistency of fabric filling
Great value
Designed and manufactured in the USA
Tough Nylon hanging straps
Choice of two-tone colour upon request
Optional bottom D-ring upon request
A massive 10-year warranty!
Outslayer's 100 lb bag is, without a doubt, the best heavy bag for boxers. It's extremely durable and can take the hits, but is still soft enough that it's comfortable to use.
This is due to the bag being filled with a cloth rather than sand or sawdust. You won't be left with hollows and bumps in your bag and a dangerously hard lump at the bottom. You also won't have to go through the rigmarole of unhooking and flipping the bag every couple of weeks to even out the filling.
The bag exterior not only looks cool but is made from heavy-duty vinyl that will stand the test of time. Don't get me wrong, there will be some minor aesthetic blemishes (scuff marks) with usage, but the bag will still function as well as new.
Other standout features Outslayer provides are the optional two-tone color scheme and additional D-ring at the base of the bag – both of which come at no extra charge.
If you choose to have the D-ring installed, you can anchor the bag to weight or the ground, and won't need a partner to steady the bag. Or, keep the bag swinging, and use the momentum as an opportunity to work on your footwork.
The bag also represents fantastic value. It usually retails around $280, but for the exceptional quality on offer, trust me when I say, that's a bargain. Plus, Amazon retailers sometimes have discounts of 55% or more, and this bag can be purchased for as little as $120.
Now for the crème de la crème…
Outslayer has so much faith in their products that each bag comes with an unrivaled ten-year warranty! That's right; Outslayer is promising that you'll still have this bag in a decade, or you'll get a replacement bag.
Outstanding features, excellent customer service, a ten-year warranty, and a well-known and respected brand, is why the Outslayer 100 lb heavy bag is wholly deserving of the top spot.
>> CLICK HERE TO READ MORE REVIEWS AND CHECK PRICE <<
​Main Image: Flickr / wishwon