This list compiles the top ten best boxing gloves on the market. As such, some of the gloves on this list come at a premium price, and if you're just starting out, a pair of gloves from our beginner's list may be more practical.
Now, let's get into it…
Not all gloves are created equal.
A quick foreword… If you're confused about the many different types of gloves and which ones you need, then you should check out our guide to buying boxing gloves first.
And for every good pair of gloves, there's a dozen that are complete crap.
Buying poor-quality gloves leave you feeling cheated, disappointed, and frustrated.
Training becomes a chore, and you resent the cheap excuse for fight gear you got suckered into buying. You might as well train with an inflated whoopee cushion in each hand.
To save you this torment, we have scoured the land to bring you this list of the top ten boxing gloves. You can be assured that all gloves on this list are the absolute best available in terms of both quality and performance.
Fear not young grasshopper, you are in safe hands gloves.
TOP TEN BOXING GLOVES COMPARISON TABLE
| | #10 Ringside FTG1 | #9 Fairtex GBV1 | #8 RDX BGX – F4 | #7 Venum Elite | #6 Rival RS2V PRO |
| --- | --- | --- | --- | --- | --- |
| | | | | | |
| Type | Training | Training | Training | Training | Sparring |
| Weight/Size | Small/Medium Large/X-Large | 8, 10, 12, 14, 16 oz | 10, 12, 14, 16 0z | 8, 10, 12, 14, 16 oz | 12, 14, 16, 18 oz |
| Colors | blue/white, red/white, plus 7 more | 22 designs available. Take your pick | blue, red, white | white, black, orange, pink, yellow, | black, blue, red |
| Design and Aesthetics | 80% | 90% | 85% | 85% | 85% |
| Quality and Durability | 60% | 70% | 80% | 80% | 85% |
| Support and Padding | 75% | 70% | 80% | 80% | 90% |
| Our Rating | | | | | |
| Price | CHECK PRICE | CHECK PRICE | CHECK PRICE | CHECK PRICE | CHECK PRICE |
| | #5 Everlast Protex 3 | #4 Cleto Reyes | #3 Title Gel | #2 Hayabusa Regenesis | #1 Winning |
| --- | --- | --- | --- | --- | --- |
| | | | | | |
| Type | Training | Training | Training | Training | Training |
| Weight/Size | 14, 16, 18, 20 oz | 12, 14, 16, 18 oz | 12, 14, 16, 18 oz | 10, 12, 14, 16 oz | 16 oz |
| Colors | black, black/grey | black, red, yellow, white, pink, blue, green, purple, silver | black/white, red/white, pink/black | white, grey, red, orange, green, blue, purple, black | white, black, blue, red |
| Design and Aesthetics | 80% | 75% | 90% | 95% | 75% |
| Quality and Durability | 80% | 95% | 90% | 95% | 100% |
| Support and Padding | 90% | 95% | 95% | 95% | 100% |
| Our Rating | | | | | |
| Price | CHECK PRICE | CHECK PRICE | CHECK PRICE | CHECK PRICE | CHECK PRICE |
In-depth boxing gloves reviews!
10. Ringside Apex FTG1 Boxing Gloves Review
Producing high-quality boxing equipment for over 30 years, Ringside has proven that its fight gear is durable and suitable for professional use.
However, Ringside boxing gloves don't come with a professional price tag, and for the best all-around value, you can't beat Ringside Apex boxing gloves.
Design and Aesthetics
The Ringside FTG1's have a simple but aesthetically pleasing design.
The large Ringside logo on the front of the glove is the first thing you notice. It's bold, stands out, and lets everyone within a ten-meter radius know you're training with Ringside.
The hook and loop strap with the Ringside logo, and Ringside's trademark "The Best in Boxing" scripture on the palm of the glove, are nice finishing touches that add to the overall feel of quality.
The Apex FTG1's come in every possible color combination imaginable – some weird, some wonderful. A few of my favorites are white and blue, red and white, black and gold, and oddly, pink and green (don't ask).
Quality and Durability
Disappointingly, the skin of the glove is made from a leather-like material instead of genuine leather, so the long-term durability is questionable.
That being said, these gloves will endure endless training sessions, and you're more likely to bin them due to old glove smell than wear and tear.
Ringside has real athletes rigorously test their gloves to ensure they're capable of taking a beating without losing their shape or falling apart.
Support and Padding
Ringside Apex FTG1 boxing gloves provide excellent support and comfort.
They're padded with a two-inch-thick layer of foam making them very efficient shock absorbers.
Combining the thick padding with strong wrist support means you'll be saved from the embarrassment of staving your wrist on the bag.
These gloves are also extremely comfortable.
The hand compartment is pre-curved during the manufacturing process, so they fit without having to break them in much. The interior also features a grip bar to keep your hand from tiring while also helping to keep your fist tight.
Sweaty hands are eliminated by Ringside's Stay-Dri inner lining and ventilation holes that provide plenty of airflows.
Positives
Extremely affordable. One of the best value gloves on the market
Ideal for beginners – solid all-round performer
Comfortable glove with minimal breaking-in required
Good airflow
Negatives
The sizing is off. A large fits a woman with average-sized hands
Not suitable for sparring – 8oz and 12oz only with very dense foam
Not genuine leather
>> CLICK HERE TO READ MORE REVIEWS AND CHECK PRICE <<
Fairtex GBV1 Muay Thai Gloves Review
Step foot into any Thai boxing gym, and it's inevitable you'll see fighters kitted-out with Fairtex.
Shorts, gloves, shin pads, hand wraps, you name it – every part of the fighter's training arsenal is branded with Fairtex's trademark scripture logo.
And here's why…
Design and Aesthetics
The freedom of expression you get from Fairtex is INCREDIBLE!
The BGV1 gloves come in an enormous range of designs and colors to satisfy even the fussiest of fighters. They offer something different without being look-at-me-I've-got-new-gloves, in-your-face showy.
The Fairtex logo adorns the back of each glove and appears again on the strap adding to their professional appearance.
My personal favorite is the red gloves with breathable mesh insides. Spend an hour smashing pad, and you'll be thankful for a little airflow.
Quality and Durability
All Fairtex gloves are handmade in Thailand. You wouldn't normally associate Thailand with quality manufacturing, however, with the origins of muay Thai dating back to around 1560 A.D., the Thai's have had plenty of experience making gloves.
As such, the workmanship is amazing.
Pick these gloves up, and without even putting them on, you can recognize the quality by the solid feel of the glove, the perfect stitching, and the smell of genuine leather.
Support and Padding
These BGV1's are a snug fit and a "breaking in" period will be required. You'll feel the pinch most at the depths of the gloves where your fingers would be, and at the knuckle area.
The stiffness will loosen off in time as the gloves mold to fit your hands but be prepared for numerous rounds on the heavy bag before you get any slack.
Yet, for such a tight grip inside, the wrist support is surprisingly lacking and you will be able to move your wrist freely (good for the muay thai clinch). If you use hand wraps for added support, then this isn't an issue.
The padding is firm, and the gloves feel solid, offering plenty of protection to the knuckles.
Although not strictly a boxing glove, Fairtex gloves are known for being solid and durable and can be used for boxing, muay thai, and MMA.
Positives
Professional quality gloves at an affordable price
Great selection of designs and colours
Handmade, genuine leather gloves with tight stitching
All purpose – can be used for pad work, bag work and sparring
Negatives
May be too tight. "Breaking in" required
Weak wrist support
>> CLICK HERE TO READ MORE REVIEWS AND CHECK PRICE <<
RDX BGX – F4 Boxing Gloves Review
RDX produces superior fight gear that not only looks good, but manages to balance the trifecta of performance, durability, and comfort just right.
Design and Aesthetics
The RDX BGX F4 boxing gloves are super stylish and have definitely got it in the looks department.
The glove exterior is decorated with a faded, gold RDX print and the company's simple, but effective RDX logo. It's not too bold or overwhelming and merges well with the brightness and overall professional appearance.
The logo is found again on the strap, along with the glove model number and reference to the "Cool-X System" thermoregulation technology.
Featuring a mesh panel that allows air inside the gloves near the palm, these gloves keep you somewhat cool. The gel on the inside limits the amount of air that comes through, but it's a small price to pay for comfort.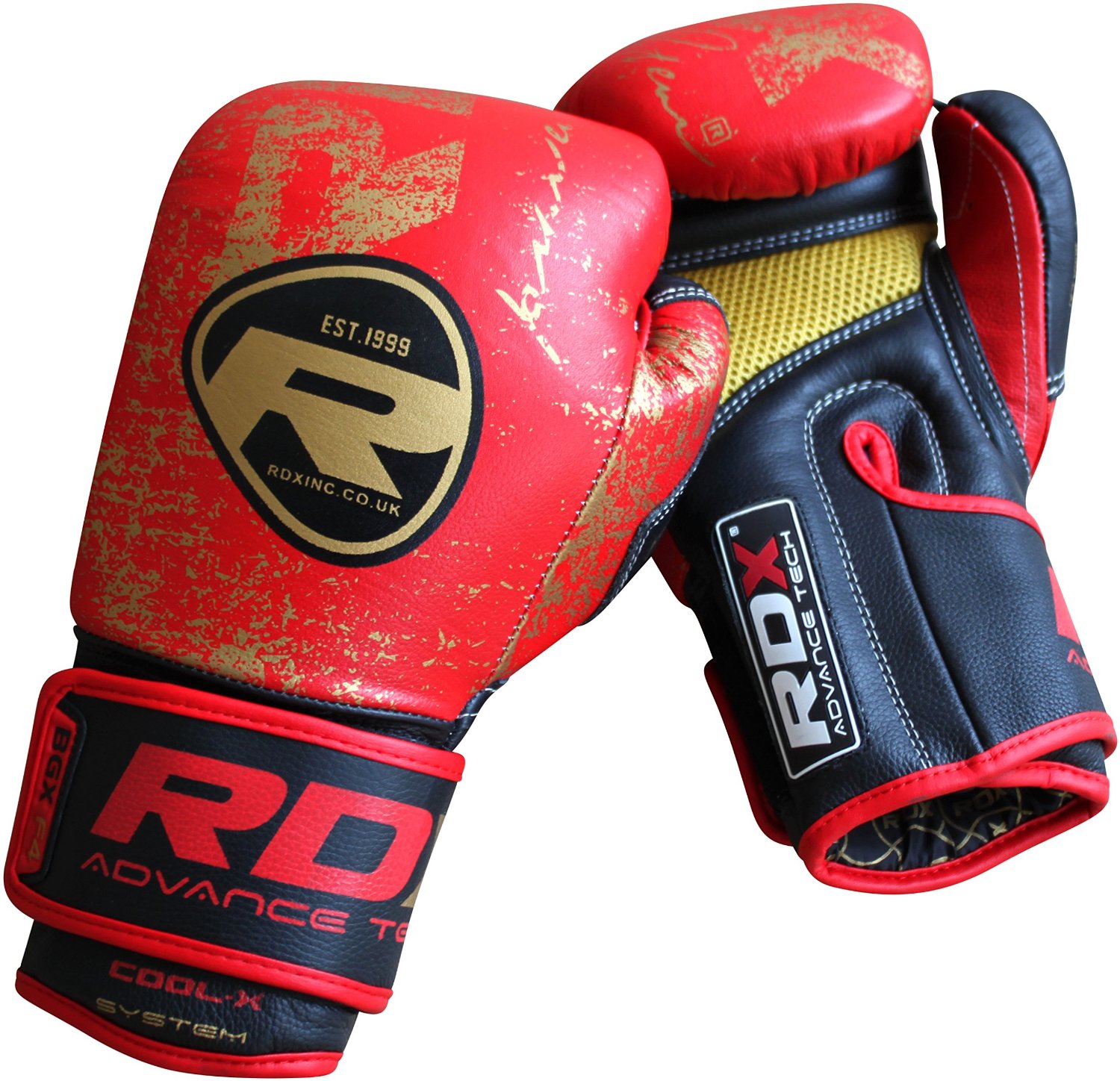 Quality and Durability
Made from full-grain leather cowhide of the highest quality, RDX boxing gloves have been designed with the long game in mind.
The leather won't warp, crack, or wrinkle after a few months of use and you can train hard knowing that these gloves will endure beating after beating and continue to look as good as new.
Each piece of leather is fastened together with tight and faultless stitching at the hems of the glove.
There is no doubt about it; RDXgloves are built to last!
Support and Padding
The interior gel lining in the BGX F4 gloves will provide comfortable support throughout the toughest workouts.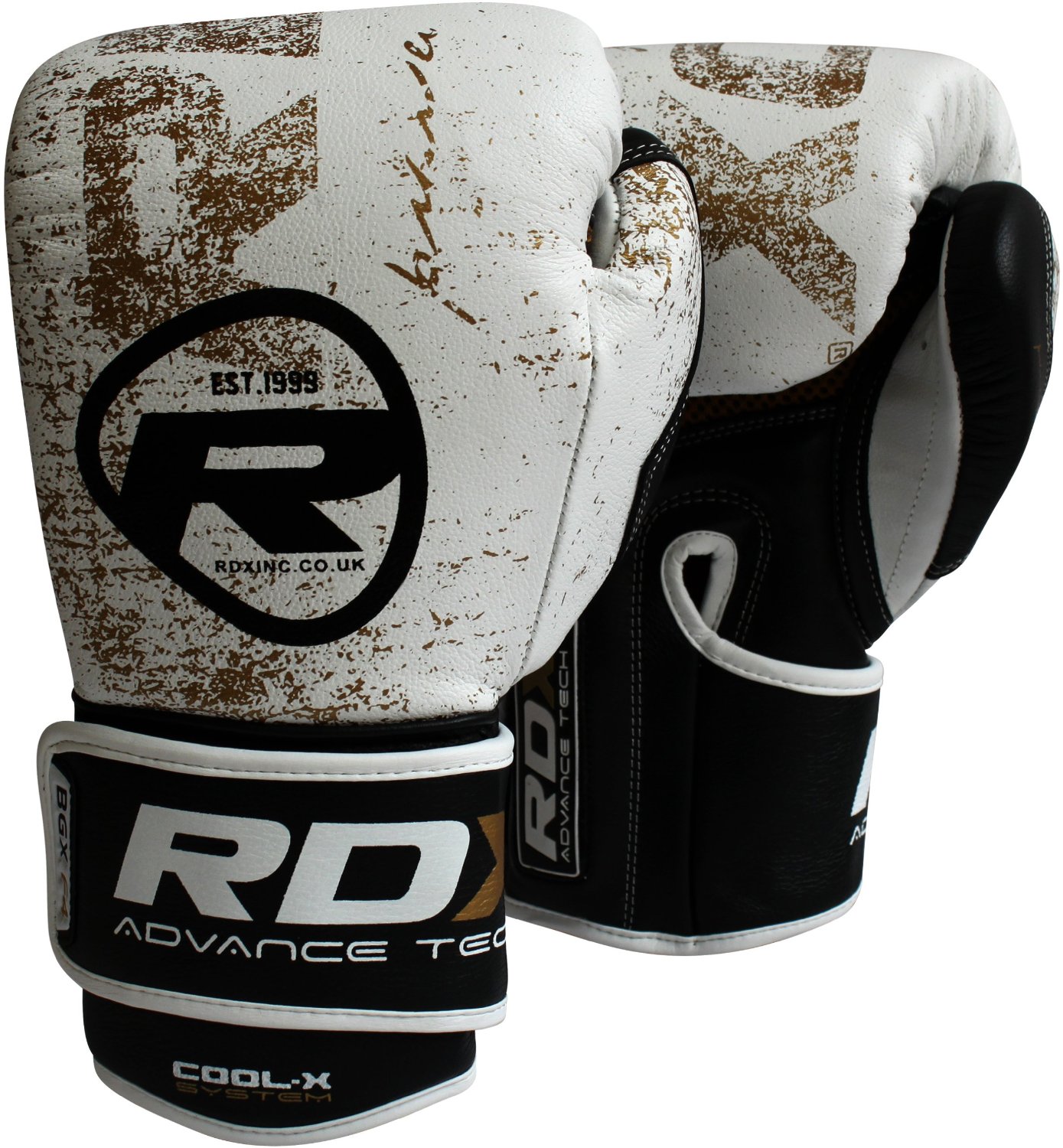 Three layers of gel padding provide unbelievable shock resistance. Hitting a heavy bag in these gloves is like hitting a pillow, except instead of being met with silence and a cloud of duck feathers, you get a satisfying "thud."
The gel also forms around your hand giving a unique fit that is comparable to custom-made gloves.
The RDX BGX F4 gloves feature a wraparound wrist strap with a D-ring. The strap fastens tightly and gives a very secure fit. The velcro strap stretches a little up your forearm, giving your wrist the best protection when you punch.
Positives
Extremely COMFORTABLE.
Excellent protection for the hands and wrists
The quality of workmanship is superb. Highly durable, top-quality materials used
Additional features: cushioning gel, wraparound wrist support, and "Cool-X System" for keeping your hands cool
Negatives
They aren't as breathable as some other brands
>> CLICK HERE TO READ MORE REVIEWS AND CHECK PRICE <<
Venum Elite Boxing Gloves Review
Offering functionality and quality along with sleek designs, it's no wonder that Venum is one of the leading suppliers of fight wear in the world.
Venum's Elite boxing gloves are no exception, offering performance, quality, and sick aesthetics.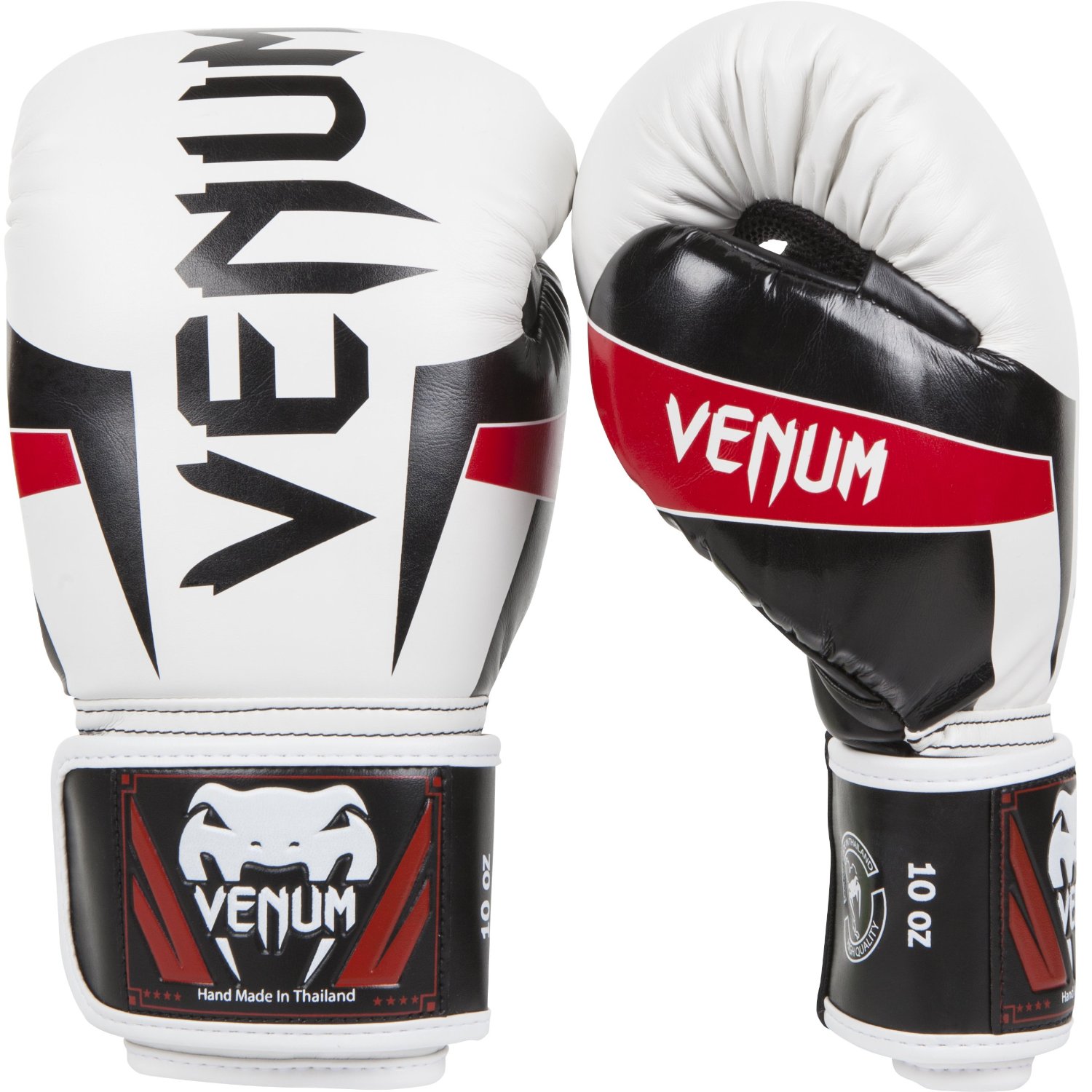 Design and Aesthetics
These gloves look scary and intimidating, and for that reason… I LOVE THEM.
Combining sharp lines and a ridiculously cool paint job, the Elite is a serious contender for the most intimidating boxing glove.
They come in nine different color schemes, all of which offer a sleek look that stands out at the gym.
Quality and Durability
Venum Elite Boxing Gloves do more than just look good and are also extremely durable. The Elite gloves have strengthened seams designed to take a bigger beating than your opponent.
The Skintex imitation leather exterior is durable and won't tear or graze easily and also doesn't leave rash marks, making these gloves ideal for sparring.
You can have confidence that Venum boxing gloves will last round after round, even if you're gassed out after three.
Everything is highly functional too. They feature a Velcro wrist strap for easy tightening and a high-density mesh interior that does an excellent job of stopping moisture gathering in the glove.
Support and Padding
Training in comfort is a good thing. The padding in Venum Boxing Gloves lets you train as long and as hard as you want, without hurting your hands.
The triple-density foam has great shock absorbing properties making them ideal for hitting pads or bag work.
Between the thick padding with the reinforced palm, you have an incredibly comfortable glove that reduces the risk of injury even when going full-force on the heavy bag.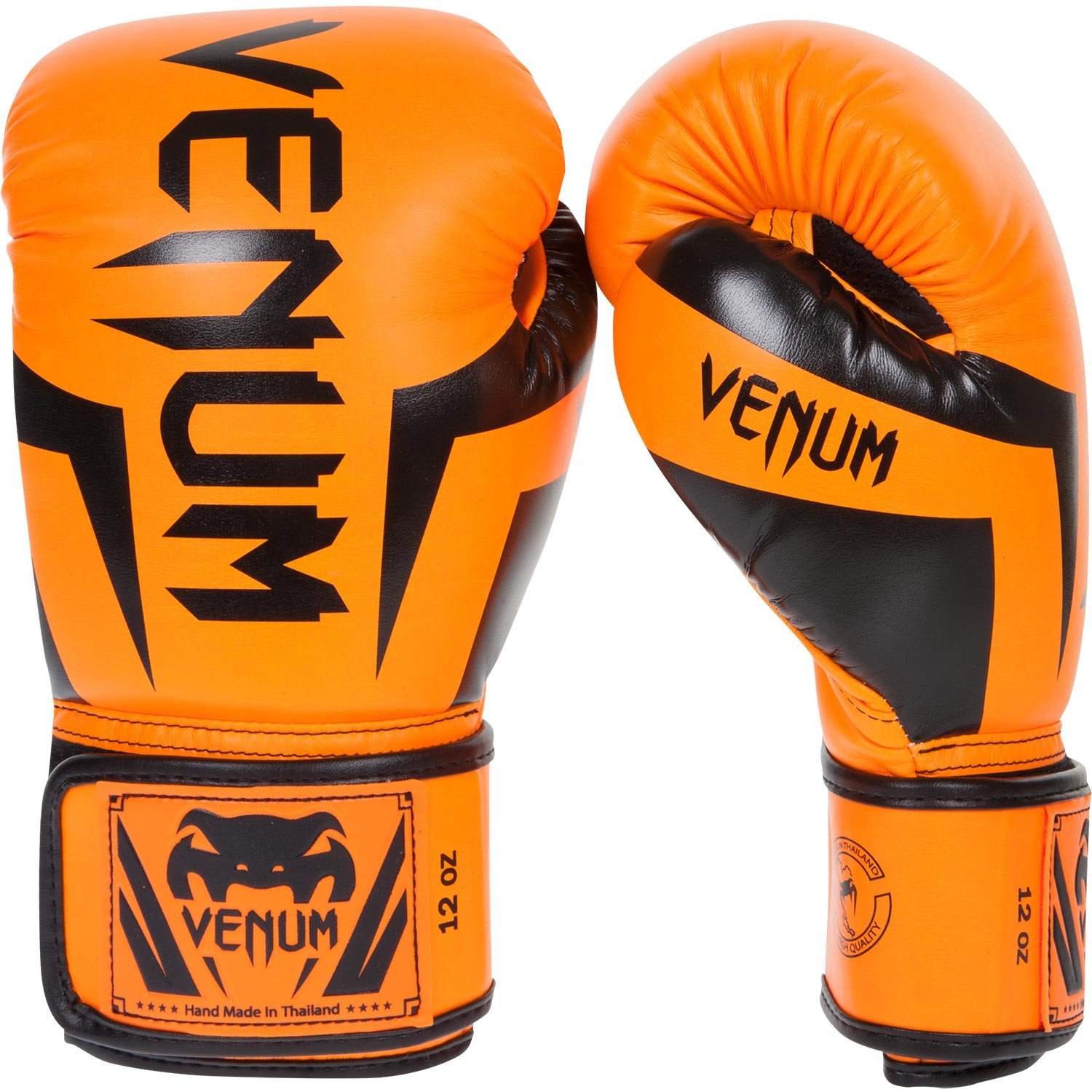 Positives
There's no need to break-in these gloves; the leather is soft enough that you can strike as hard as you want as soon as you get them
The superior ventilation keeps your hands cool
The gloves are versatile and can be used for mitt work, on the heavy bag, or for sparring
With a reasonably low price tag, these gloves are great value
Negatives
The wrist support could be better
>> CLICK HERE TO READ MORE REVIEWS AND CHECK PRICE <<
Rival RS2V Pro Sparring Gloves Review
Rival has a commitment to quality and a passion for boxing that manifests itself in the form of superior fight gear. Their boxing equipment is sought after by style-conscious amateurs and trusted by performance-driven professionals.
The RS2V-Pro Sparring Glove is a freakishly impressive glove that offers everything you could want from sparring gloves: soft padding, durability, comfort, and good hand and wrist protection.
Design and Aesthetics
First off, these gloves look the shit. They are scoring majorly in the style department for keeping it real and sticking to a traditional style, but managing to jazz it up with simple yet eye-grabbing aesthetics.
The design is clean and modern with the double hook and loop strap system adding to that overall feeling of cutting-edge, advanced fight wear.
Quality and Durability
Rival boxing gloves are manufactured in China. Some people are hesitant about products produced in China, but the quality of materials and workmanship of these gloves is outstanding.
The stitching is tight and the leather is tough. In fact, there's a whole 1.0mm of full grain leather.
In case you didn't know, full-grain leather is made from animal hide that is just below the hair where the grain pattern is the tightest. It is the strongest and most durable leather and has good moisture resisting properties.
Support and Padding
The RS2V sparring gloves encase your hands in 40mm (1.75") of layered foam padding. That seems a lot of foam, but the foam is compressed and the gloves remain compact.
Sparring gloves are designed to be soft to protect you and your partner. The idea is that you can up the intensity of your sparring sessions without fear of injuring your gym buddy. These gloves, therefore, feel "spongy", and when you connect, your shots feel cushioned and kind of "bouncy".
If you have weak wrists, the RS2V's are the perfect solution. The "Ergo Xtrem Strap System" has a 15° angled strap designed to follow the angle of your wrist providing rigid support.
However, superior wrist support comes at a price. Taking the gloves off can become a bit of a Houdini act, and you may find yourself using your teeth to undo the double hook and loop straps.
The gloves feel nice on as a smooth laminated inner lining makes for a very comfy fit.
Positives
Simple but attractive design
High-quality sparring gloves that are affordable
Protection guaranteed – ultra thick 40mm (1.75") of layered foam padding
Ergo Xtrem Strap system provides firm wrist support
Negatives
Can't be used for the bag or pads (if you want them to last)
Double strap system makes gloves difficult to remove
>> CLICK HERE TO READ MORE REVIEWS AND CHECK PRICE <<
Everlast Protex 3 Boxing Gloves Review
Whenever someone mentioned Everlast boxing gloves, I would instantly butt in and tell them to avoid them like the bubonic plague.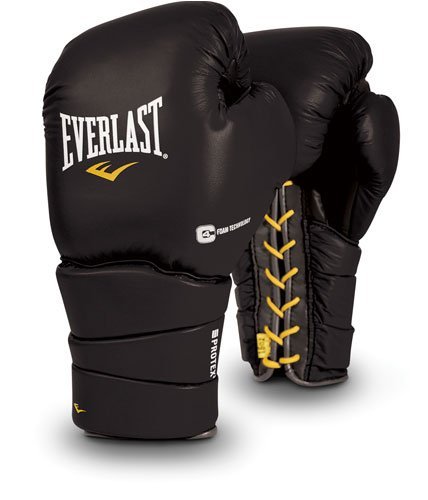 "They're overhyped crap! They underperform in every area from looks to performance."
However, Everlast Protex3 boxing gloves prove that Everlast is more than capable of producing extraordinary fight gear – although only at the higher end of the market.
The Protex 3's are Everlast's best creation to date. They are professional-grade gloves built for hard training with stand-out features that will blow you away.
They do come with a slightly inflated price tag, but their exceptional quality and added features wholly justify splashing out on a pair of Protex 3's.
Design and Aesthetics
Everlast Protex 3 boxing gloves look like no other glove on the market with their slick, armadillo-style wrist support and bold, contrasting black and yellow color scheme.
The Protex 3's opt for laces instead of velcro. Although laces require you to be more prepared when training, they add to the professional look of these gloves and give them that touch of class.
Overall, these gloves are intimidating and look like something Batman would be seen wearing (not the spandex-sporting, gay Batman of 60's televisions shows, but the fearless Dark Knight of recent times).
Quality and Durability
The professional series of Everlast gloves are worlds apart from their budget range of gloves in terms of quality of materials and craftsmanship.
These gloves are constructed from 80% genuine leather and 20% polyester providing the perfect blend of durability and flexibility – although some breaking in is required.
Every pair of gloves boasts some type of moisture-reducing system. However, the EverDri system found in Protex 3's is one of the few thermoregulation and ventilation features that actually keep your hands dry and cool.
Support and Padding
Comfort is one of the best traits of these gloves. With a curved anatomical grip, the gloves encourage you to make a fist naturally.
The four layers of C4 foam do an outstanding job of softening the impact of your punches and protecting the hands.
The wrist support is long and looks like armadillo armor. It consists of a reinforced three piece panel stuffed with dense padding that keeps your wrist stable – even when you land massive hooks.
One of the benefits of lace-up gloves is the support and the secure fit they give you. By tightening the laces, you can make the gloves as snug as you need.
You will need help getting the gloves on, but it's worth the extra effort.
Positives
Advanced wrist support technology
Extremely comfortable
Perfectly placed vents and moisture-wicking system that actually works
Negatives
breaking-in period required
You'll need help to lace up the gloves
>> CLICK HERE TO READ MORE REVIEWS AND CHECK PRICE <<
Cleto Reyes Training Gloves Review
Cleto Reyes boxing gloves are held in high regard in professional boxing circuits worldwide for the attention to detail and quality of workmanship that goes into every pair of gloves.
If they're good enough for Manny Pacquiao, then I guess they'll be fine for you too.
Design and Aesthetics
In over 70 years of manufacturing boxing gloves, Cleto Reyes has not altered their style much, if at all. Call it tradition or just plain stubbornness, the gloves stick to a classic, no-thrills style.
Their unpretentious design may not turn heads at the gym, but you will be able to rely on them for many years to come.
There are seven colors to choose from all of which proudly display the logo on the back of the fist and the wrist.
Each color is available in both traditional lace and velcro straps.
Quality and Durability
It's unmistakable that much time, passion, and expertise has gone into the construction of these gloves.
They're solidly built and the stitching is impeccable. The padding feels thinner than other gloves but is very dense. They're also made from premium goat leather – the smell alone is worth purchasing these gloves for.
The inside of the glove is lined with waterproof nylon that protects the padding from moisture damage.
Support and Padding
Cleto Reyes boxing gloves stay true to the traditional Mexican style of glove: long, flat, rectangular in shape, and with minimal knuckle protection.
The advantage of having little knuckle padding is that it allows you to really feel the "pop" from your shots.
Some boxers love this, some don't. It comes down to how much of the connection you want to feel and your preference for comfort.
The minimal padding makes Reyes ideal for pad work, okay for the heavy bag (depending on knuckle endurance), but not well-suited for sparring.
On the contrary, there is ample support to the wrists – even a little too much. The cuff stretches way beyond the wrist and up the forearm which can be slightly irritating if you're not used to that particular style.
As with all hand-made leather gloves, Clete Reyes will be tight-fitting to begin with, however, they will loosen within 3-6 months (depending on how often they are used).
Positives
Professional grade of gloves that are affordable
Outstanding workmanship and time-tested quality
Available in lace-up or velcro straps
Negatives
Minimal knuckle padding doesn't suit everyone
Not well-suited to heavy bag workouts or sparring
Somewhat plain design
>> CLICK HERE TO READ MORE REVIEWS AND CHECK PRICE <<
Title Gel Suspense Training Gloves Review
Title has a stellar name in the boxing community. They've earned the trust and support of boxing enthusiasts by consistently supplying the industry with equipment of the highest caliber.
The Gel Suspense Training Gloves are a great all-purpose glove that upholds Titles reputation and high-quality standards.
The quality of materials, attention to detail, and craftsmanship are second to none. They're also real honey for the money and are the best boxing gloves under $100.
Design and Aesthetics
If you were to describe the style of these gloves in three words, it would be modern, simple, and efficient.
The Gel Suspense Training Gloves opt for a somewhat basic design, which not only works but gives the gloves a super-slick look.
They're a cool-looking set of gloves and as all cool kids know, there's a secret to being cool; don't try too hard.
The gloves are available in three different color schemes:
Black and White (my favourite)
Red and White
Pink and Black
Quality and Durability
These gloves are extremely well-constructed, from the outer surface to the inner lining.
The gel interior is surrounded by three layers of compressed foam rigidly held in place by immaculate stitching on the seams of the glove.
The top-class, flawless finish on the outside of the glove has been achieved by using full-grain leather handpicked from the finest hides. The durability of full-grain leather makes it suited to the demanding and punishing variety of applications these gloves will find themselves in.
Moisture and airflow issues are addressed with a couple of innovative features including a nylon weave mesh on the palm, a vent on the inside of the thumb, and moisture-wicking materials used in the lining.
Support and Padding
Title Gel Boxing Gloves reduce impact and vibration forces by combining a shock-absorbing gel lining with three layers of dense foam.
The inner gel lining also provides a very comfortable fit by molding to the shape of your hands. It's snug and makes the hands feel all warm and cozy like hot soup on a winter's day.
These gloves offer excellent wrist support. The nylon wrist strap wraps tightly around the wrist providing solid support while the hook-and-loop fastening keeps the gloves firmly in place when training.
These gloves are a comfortable fit for average-sized hands. Those with small hands can beef up with hand wraps.
Positives
Designed to control perspiration – cool, dry, and comfortable training sessions
Gel lining and tri-layered foam for superior protection and shock absorption
Good wrist support – hook and loop Velcro fastening
High-quality glove at a very fair price
Negatives
Feel slightly clunky when sparring
A little breaking-in required. 1-4 weeks, depending on how often you train.
>> CLICK HERE TO READ MORE REVIEWS AND CHECK PRICE <<
Hayabusa Tokushu Regenesis Gloves Review
Hayabusa doesn't settle for mediocre fight wear. They lead the market through the use of cutting-edge materials, university research, and several innovative, world-first features.
Pure innovation and striving for perfection have resulted in Hayabusa Tokushu Regenesis gloves being a game-changer.
Design and Aesthetics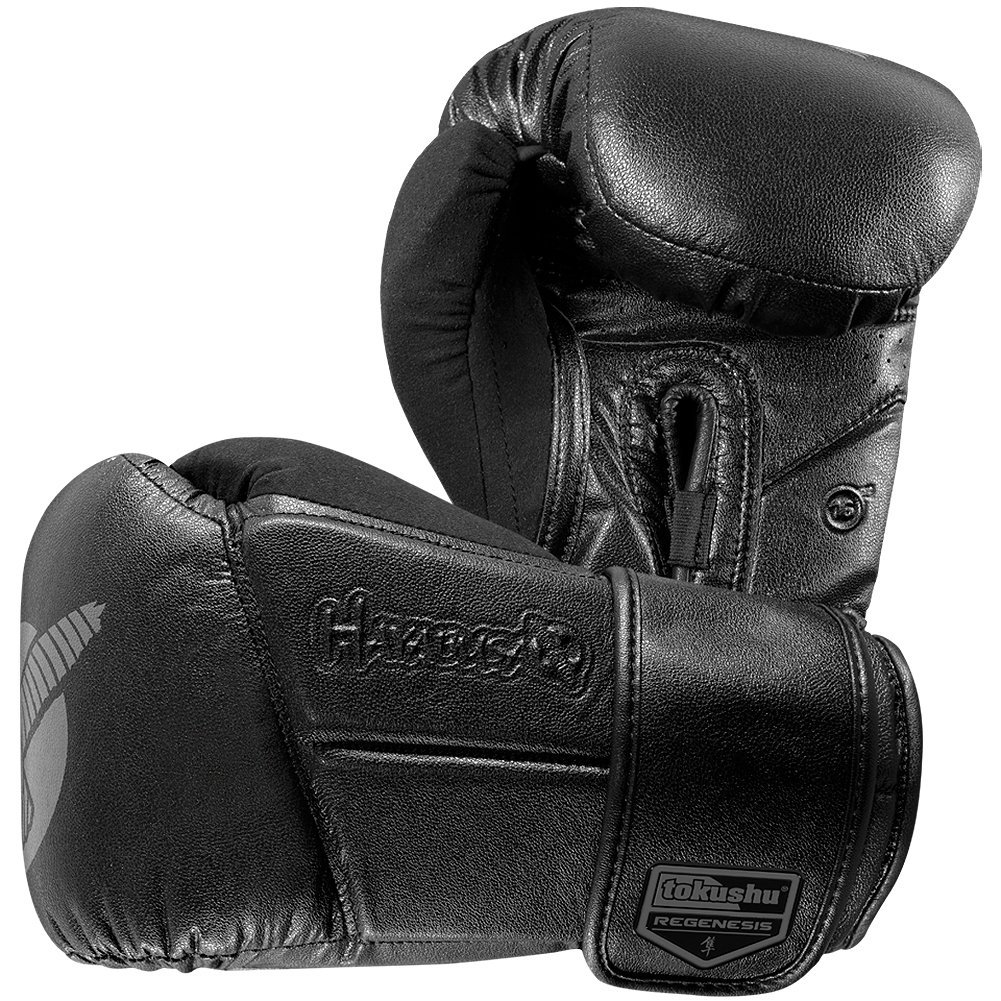 Hayabusa is producing a new generation of combat gear, and Regenesis is leading the revolution.
The compartmentalized exterior is unique, and together with the vylar material, it creates a futuristic-body-armor feel.
They do verge on the show-off side. However, their simple, yet attractive, the two-tone color scheme helps them remain from being a posers glove.
Quality and Durability
The superior quality of the Regenesis gloves is self-evident and the overall workmanship and attention to detail are astounding!
Lab testing ensures that the materials Hayabusa boxing gloves are made from are extremely durable, and smart design also means everything is highly functional.
For example, Tokushu Regenesis gloves feature the Sweatx Thumb that is made from soft microfiber suede that is purpose-built for wiping a sweaty brow. The glove interior is lined with Hayabusa's AG fabric that has antibacterial technology designed not to hold odors. And the palm of the glove is pocketed with air holes for enhanced ventilation.
These gloves are also well balanced as there is more weight at the wrist due to the dual strapping system.
Support and Padding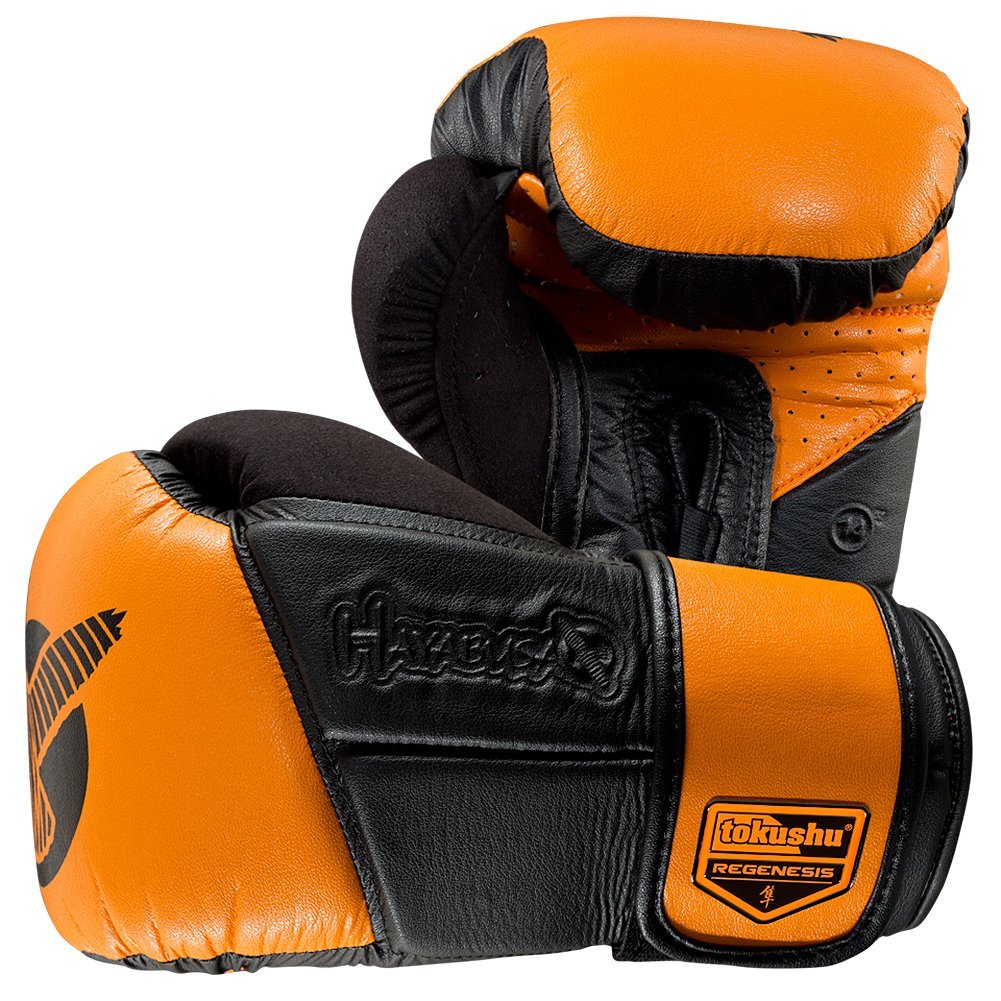 The support technologies and padding materials used in the Tokushu Regenesis are a testament to Hayabusa's quest for producing fight gear with unparalleled excellence.
The patented Dual-X Wrist Closure and Fusion Splinting system provides maximum support and achieves 99.7% perfect alignment between the hand and wrist.
The Deltra-EG Inner Core foam ensures that unwanted energy is dissipated through the material and doesn't pass through the hands.
What does all this fancy jargon mean in boxing terms?
You'll be able to go hard and put your weight and power behind your shots without fear of staving the wrist or injuring the hands.
It also makes these gloves a solid all-around performer. They won't twist and turn when sparring, and when combined with the tough padding material, they make an excellent set of gloves for working the heavy bag.
However, they do have one pitfall: dual straps make it difficult to remove the gloves in a hurry.
Another thing to note is that these gloves are designed for people with average hand size. If you've got larger than average mitts, then check out the Tokushu Plus gloves.
Positives
Great all-purpose glove – good for pads, bag work or sparring
Firm wrist support and solid padding
Cutting edge boxing technology
Vylar material requires little "breaking in" if any
Perspiration Control – Sweatx thumb, enhanced ventilation, antibacterial and odour free fabrics
Negatives
Taking gloves off can be difficult
>> CLICK HERE TO READ MORE REVIEWS AND CHECK PRICE <<
Winning Training Gloves Review
Taking the number one spot on our list of the top ten boxing gloves is Winning Training Gloves.
Winning has the loyalty and trust of their customers and the endorsement by professional fighters around the world as their gloves offer superior performance, support, and comfort.
Everything about them screams perfection, and they will become a prized possession that you will cherish for many years to come.
It's why serious fighters choose to train with Winning and why their gloves are supported by professional bodies like the WBA (World Boxing Association) and the WBC (World Boxing Council).
However, there is one BIG drawback with Winning gloves: They are EXPENSIVE! Expect to shell out around $350 for a pair!
This is way more than some people are willing to spend, and that's completely understandable. There are many other gloves available that get the job done that cost much less.
That being said, Winning gloves do deserve their hefty price tag. The old cliché "you get what you pay for" is certainly true for these gloves.
The price may be high, but they are the best boxing gloves available.
Yes, it's a big investment, but you're investing in protecting your hands for the long-term, and also in the quality of your training experience.
It's also worth considering that these gloves will last you for a very long time (if you care for them). When you divide the initial cost over the many years you'll have these gloves, it works out cheaper than replacing budget gloves every year or two.
Design and Aesthetics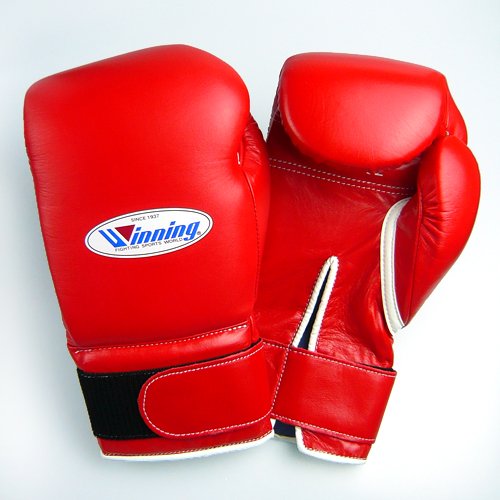 Winning opts for a classic boxing glove style. The design is simple and some would even say too basic – one solid color with the Winning logo on the back of the glove is as flash as it gets.
However, the question is: If you owned a Rolls Royce, would you give it a custom paint job and cover it in tacky graphics?
OF COURSE NOT!
The classic style adds to the elegance and makes a big enough statement without adding to it. It is the same with these gloves.
Winning doesn't need to try and impress with bold colors schemes and outlandish graphics. Their logo is enough to let everyone know you're training with the best.
Quality and Durability
Even with their simple design, Winning boxing gloves are stunningly beautiful works of art.
Each glove is hand-crafted using the finest materials combined with equal measures of passion and experience.
The finish is immaculate with each stitch flawlessly aligned and with equal distance.
The gloves give off a smell of genuine leather that is raw, powerful, and extremely satisfying.
When handling the gloves, you'll notice that they are perfectly balanced. Not top heavy, not too much on the back of the glove, not too little in the palm, and altogether just right.
Pressing on the foam, you can feel that Winning has got the combination of density and flexibility spot on, making these gloves suitable for all types of training.
You would expect this level of excellence from boxing gloves that are hand-made in Japan under the philosophy of Kaizen (small but continuous improvements). These gloves show the outcome of such discipline and dedication and they deserve to have risen to the top.
Support and Padding
The reason Winning has such a good name in boxing is because of its superior performance. Nowhere is this more felt than in the support and comfort they offer when hitting the bag or mitts.
They absorb the force from impact extremely well and offer excellent protection to the hands and knuckles.
If you're a hard hitter or don't want to risk injury, then Winning is a safe bet.
They're also very comfortable from the beginning and don't require a breaking-in period. They will fit most hands with hand wraps on.
They are available in both lace-up and Velcro straps and 14oz and 16oz.
ABC
Positives
The best performing gloves on the market
Excellent hand and wrist protection
First-class quality construction
Great all-purpose glove
Available in lace-up and hook and loop
Negatives
Plain design
They cost a small fortune