If you've recently started boxing, and you're researching what equipment you need, then you've probably heard hand wraps mentioned dozens of times.
Although colourful, these rolls of fabric aren't just for decoration. Their purpose is to strengthen and align your wrists and to make the hand rock-solid when making a fist.
Hand wraps don't absorb any of the impact force – that's the role of the glove. However, they do offer a little protection against fractures, sprains, and abrasions.
There're a few types of hand wraps available, and it can be confusing deciding what you need. Lucky for you, our guide on buying hand wraps has all the information you need as well as a handy round-up of the very best hand wraps for boxing.
Top 5 Best Boxing Hand Wraps
#5

Title Mexican

#4

Pro Impact

#3

Ringside Mexican

#2

Fairtex HW2

#1

Meister MMA

Type

Mexican

Mexican

Mexican

Mexican

Mexican

Material

Elastic Cotton

Spandex Cotton

Semi-elastic Fabric

Elastic Cotton

Elastic Cotton

Length

180″

180″

180″

180″

180″

Colors

Black, Yellow, Pink

Red, Blue, Black

Black, Gold, Blue, Red, White, Pink, Turquoise, Green, Orange, Purple

Purple, Black, Red, Blue, White, Pink

Yellow, Red, Blue, Green, Pink, Purple, Turquoise, White, Orange

Our Rating

Price
Full reviews at the bottom of this page
The Importance of Hand Wraps
As a boxer, your hands are the tools of your trade. It is, therefore, vital that you take whatever precautionary measures you can to protect them.
Along with buying high-quality boxing gloves, using hand wraps is another action you can take to protect your hands and wrists from impacts. They are an essential item that you should be using for all types of boxing training.
Here's why…
Mishitting the bag or pads is easy. All it takes is a lapse in concentration, and you get your timing wrong or connect at an unusual angle. Sometimes it can be through no fault of your own, as is the case when your training with a novice who isn't holding the mitts correctly.
Whether you're the cause of the accident or not, you should be wearing hand wraps to minimise the chance of injury.
And while the shooting pain from spraining your wrist or fracturing your knuckle is certainly sore, the real pain is being out of training for weeks or even months at a time.
But besides short-term setbacks, repeatedly training with unprotected hands increases the risk of developing long-term injuries. You may be young and not give a damn now, but what about when you're older, and it hurts to do simple things like hold a pencil or drink a cup of tea?
And to think, all this could be avoided by buying decent gloves and a pair of hand wraps that cost less than $5.
Type of Boxing Hand Wraps
Traditional
Traditional hand wraps are made from a cotton weave and don't stretch easily. As they have no give, it's easy to wrap them that tight that they cut off the blood to your fingers. Once very popular, cotton wraps are now regarded as less comfortable than the widely used Mexican style hand wraps.
Mexican
Mexican hand wraps utilize a stretchy semi-elastic material, making them safer and more comfortable to wear. They tend to stay tight for the whole session, and you can make a fist comfortably without feeling the wraps cut into your hands.
Tape
Professional boxers and fighters will use tape and gauze when fighting in the ring. However, this isn't necessary when training.
Glove
Glove wraps are fingerless gloves that offer a quick and easy solution for protecting your hands. Although they are convenient and provide some protection, they're not as tight fitting and don't offer the same amount of support as traditional wraps. If you're serious about your training, then give hand gloves a wide berth.
Things to Consider
Should You Go Traditional or Mexican?
As stated above, tape and gauze wraps are only used when competing. Glove wraps are also useless, and although they may be easier to put on and save time, they offer minimal support and are a waste of money.
Don't be lazy, and take the time to wrap your hands.
So, that leaves us with traditional cotton wraps or stretchy Mexican hand wraps. Which is better?
Well, both types of wraps are fit for purpose, are machine-washable, and both feature Velcro straps. One style isn't better than the other and in the end, it comes down to what you prefer to train with.
However, as someone that has used both types, I would go with Mexican style hand wraps. They are much more comfortable and provide a tighter fit that doesn't come loose when training.
What Length Should Your Wraps Be?
Wraps come in several lengths, with 180" and 108" being the two most common.
Many boxers opt for the longer length as it gives you options to provide extra support and padding where you need it most. You can wrap more around the knuckles if your knuckles are left sore after training, or provide additional reinforcement to your wrists if you have smaller, weaker wrists.
Go For a Wide Velcro Strap
A wide strap is commonly found on Mexican style wraps. Wide straps have more Velcro for stickiness meaning your wraps won't come undone easily, and they also make your wrists that little bit more rigid.
How to Put On Hand Wraps for Boxing
There are several different ways to wrap your hands but the principals of each method are the same: pad the knuckles, bind the hand, and support the wrist. This short video shows an easy method and does a great job of showing you how to wrap your hands for boxing.
Top 5 Best Hand Wraps for Boxing
Now that we've covered the different types of boxing hand wraps, the importance of wearing them, key features, and how to put on hand wraps, it's time to unveil the best boxing hand wraps.
5.  TITLE Boxing Mexican Style Hand Wraps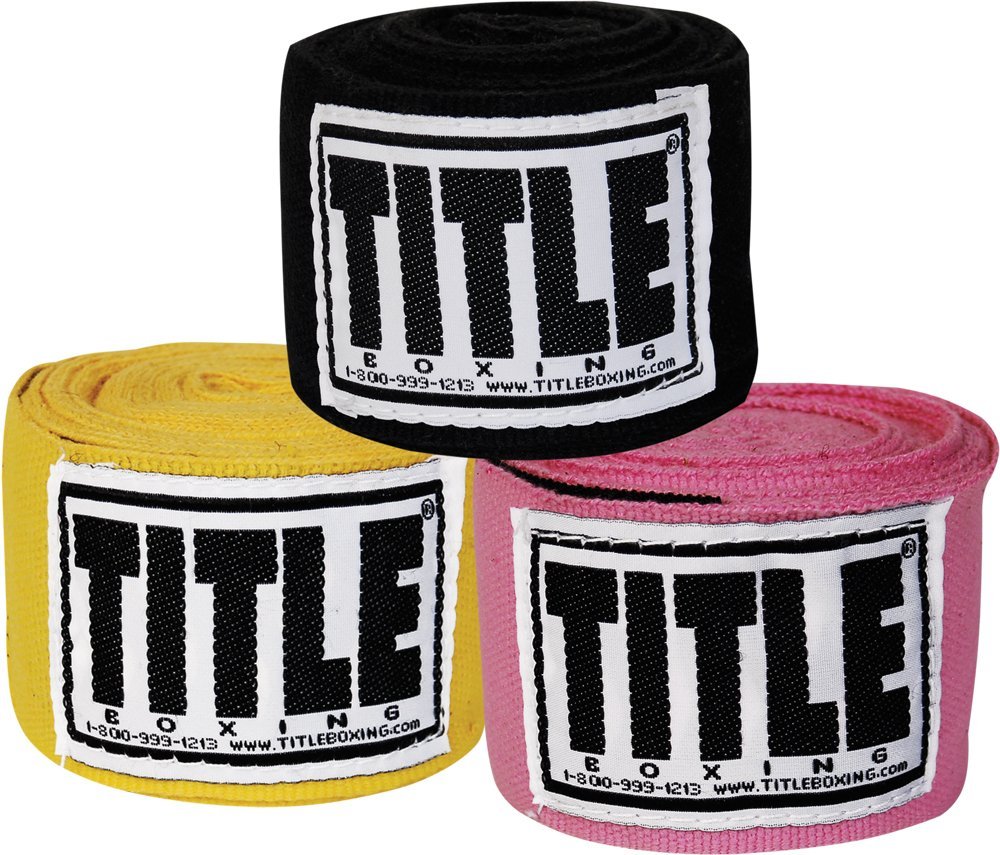 Title is known all over the world for producing high-quality boxing gear. These Mexican style wraps feature superior elasticity for those looking for a tight fit that also allows plenty of movement.
A handy feature is the "This Side Down" stamp which helps you put the wraps on correctly so you don't end up having to twist the end of the wraps to get the velco the right side up. They also come in a long 180" roll providing ample wrap to protect both the hands and wrists.
The only downside is the lack of colors; with pink, yellow, and black being the only ones available.
However, at less than $10 for some of the best hand protection on the market, these wraps offer great value and a compromise on colour is definitely worth it.
>> CLICK HERE TO READ MORE REVIEWS AND CHECK PRICE <<
4.  PRO IMPACT Boxing Hand Wraps 180″ Mexican Style
These legendary wraps are one of the highest rated and all-time best sellers on Amazon.
A problem that often plagues hand wraps is having their elasticity fade over time with repeat washings. The Pro Impact wraps are unique in that they are completely washer-safe, and will never lose their stretchiness.
These Mexican style wraps also come in a nice 180" length, have a Velcro hook and loop closure, and are extremely comfortable. What more could you ask for?
They are available in red, blue, and black.
>> CLICK HERE TO READ MORE REVIEWS AND CHECK PRICE <<
3.  Ringside Mexican-Style Boxing Hand Wraps
Ringside has a stellar reputation when it comes to producing top-of-the-line boxing gear, and these hand wraps reinforce why that's the case.
These wraps are noticeably less stretchable than other Mexican style wraps, but many boxers actually prefer them for this reason.
These are full 180" wraps, giving you all the length you need to cover your hands and wrists securely.
A Velcro strap, a choice of ten colours, and a low price of $7, is why these straps feature on our list.
>> CLICK HERE TO READ MORE REVIEWS AND CHECK PRICE <<
2.  Fairtex Muay Thai Elastic Cotton HW2 Hand Wraps
Let's be up front. Fairtex hand wraps aren't the cheapest option, but you do get what you pay for.
In this case, that's wraps that are well-made and extremely durable. Some boxers have had the same pair of Fairtex hand wraps for over 5 years and have used them daily!
They are 180" long and have plenty of elasticity, but at the same time, they remain tight fitting and comfortable. There are also several colours to choose from, although it may be futile choosing a color as these wraps are known to fade with repeated washing.
Apart from that, they are high-quality wraps perfect for all combat sports.
>> CLICK HERE TO READ MORE REVIEWS AND CHECK PRICE <<
1.  Meister MMA Elastic Cotton Hand Wraps
These elastic cotton MMA/ Boxing wraps are designed to be ergonomic and comfortable.
They are long, 180" wraps for full protection. They are made entirely from high-quality spandex and cotton and feature a hook and latch system for easy self-application.
The Meister hand wraps allow you to truly express yourself coming in ten different colors and a variety of designs. And at only $6(sometimes $3 when on sale), these wraps are a worthy addition to your kit bag.