Speed bag training is a boxing staple that is gaining attention in the general fitness world because of its unique ability to improve coordination, timing, endurance, and hand speed all at once.
Unfortunately, the speed bag isn't easy to find in commercial gyms. That means you'll probably need to buy your own, which isn't as easy as it sounds.
Speed bags have been around since the Marquess of Queensbury Rules first came to be, and the number of different sizes, styles, brands, and accessories out there can be overwhelming.
This buyer's guide is to help simplify your speed bag shopping experience. Read on to learn the benefits of speed bag training, how to choose the style of bag that suits your needs, and browse our speed bag reviews.
Image
Product
Features
Price

Top Grade Leather
Reinforced seams for long-lasting durability
Balanced for accurate rebounds
Medium size for intermediate users.

Check Price on Amazon

Durable leather w/ reinforced seams
Precision balanced for true rebounds
Extra thick swivel loops
Bladder Included

Check Price on Amazon

Made with Leather
Tough nylon lining for more duration
Excellent for reflex and and coordination

Check Price on Amazon

Made with Leather
Tough nylon lining for more duration
Excellent for reflex and and coordination

Check Price on Amazon

Sleek tear-drop design
Fast and balanced rebound with a lightweight latex bladder included
Easy to clean synthetic leather

Check Price on Amazon
Benefits of Speed Bags
Too often, the value of speed bag work gets overlooked. Forget the general fitness community; even boxing trainers still dismiss it as an antiquated gadget, something on par with the Mueller Exercise Belt:
But the speed bag is an incredible training tool that does a lot of things that the heavy bag can't. These are just a few of the unique fitness benefits the speed bag has to offer:
1. Improves Hand Speed
The science of speed training has developed a lot in the past 50 years, with the general consensus being that you need to train fast to be fast. Completing a single round of speed bag work requires hundreds of high-speed movements, and consistent work will prime your hands to move faster than ever.
2. Enhances your Timing, Rhythm, and Coordination
Elite boxers possess incredible timing, rhythm, and coordination. Hitting the speed bag requires all of these attributes, which is why it frustrates so many first-timers. Working regularly with the speed bag will develop these traits as you learn to use your whole body to land controlled, pinpoint strikes against a moving target.
3. Builds Muscular Endurance and Improves Your Cardio
For more than a century, fighters have turned to the speed bag as a way to condition themselves to parry, punch, and keep their hands in position for 10, 12, and even 15 rounds at a time.
Hitting the speed bag for a single three-minute round is all you'll need to understand its benefits for shoulder endurance, but if you don't believe me, you can stand up now and drum away at an imaginary speed bag for 60 seconds to get an idea of its conditioning effect.
Beyond its benefits for muscular endurance, the speed bag is also a great cardio conditioner. You can think of it as the upper-body equivalent of a treadmill.
4. Develops Your Boxing Skills
The speed bag can also be used for boxing skill development. Sport-specific benefits include improving your parries, hand positioning, and sharpening the transition between probing and power punches in combinations.
Buyer's Guide – What Makes the Best Speed Bags?
What Size Speed Bag is Best?
Speed bags come in a variety of different shapes and sizes, each of which has a different utility. Before you buy your speed bag, make sure you're shopping for the right style!
As a general rule, larger speed bags are better for more intensive impact work, though they're not necessarily easier to work with.
Certain boxing drills treat the speed bag almost like a tougher double-end or "floor-to-ceiling" bag, challenging you to connect with power shots on a moving target. This isn't the only way to use a speed bag – and it's not even the most effective way – but if it's how you intend to use it, make sure you go big. Anything larger than 9×6" is considered a large speed bag.
An important thing for beginners to know is that bigger bags aren't easier to use than their smaller counterparts. This seems a little backward because we assume the hardest part of speed bag training is hitting a moving target. By this logic, a bigger bag should be easier to hit. However, the real challenge has to do with finding and maintaining a rhythm, which can be harder with big, slow bags.
Lighter bags rebound quickly and respond better to the touch, making it easier for newbies to get into a flow.
Aside from being easier to learn with, smaller bags do more for speed bag-specific skill training. We prefer to save the power punching for the heavier bags, using the speed bag to challenge our hand speed and timing instead.
The size of the bag you choose will also affect how much maintenance is required. Larger bags tend to require more frequent refills because they get the air power-punched out of them so often.
Pick an Appropriate Material – Choose Value Over Vintage!
Many users default to authentic cowhide leather for their speed bags, but this may have more to do with tradition than anything else. Granted, nothing screams boxing like the smell of leather gear, but vintage doesn't always translate to value. Manufacturing technology is better than ever, allowing some synthetic materials to outperform leather – and at a fraction of the price.
At the end of the day, the product's manufacturer's quality will be more important than the material; stick with the big brands and stay out of department stores, and you'll be fine.
On the other hand, leather might be preferable to beginners who need to slow the bag's movement for learning purposes. Synthetic speed bags can be harder with a feel like plastic, which makes for faster and more responsive rebound compared to the soft texture and "give" of traditional leather.
Pick Up the Right Accessories
To properly mount your speed bag, you'll need to make sure you have the right accessories.
When choosing a platform, you want to find something hard and thick enough to give you a good rebound. Harder, thicker platforms are also recommended if you're trying to minimize noise; lighter, less formidable set-ups are the worst for rattling, which ruins your rhythm and adds a lot of rackets. That said, there's no reason to break the bank on yours; you can reinforce your platform by laying weight plates or sandbags on top.
The swivel controls the bag's movement and is what makes or breaks most set-ups. There are three main styles of swivel out there.The "hook and ball" swivel is a favorite among many beginners because it slows the bag's movement slightly and can be hit from all directions. It's also popular because the unique clackity-clack sound makes hitting to music work very well. The downside to this swivel is its tendency to jump, which puts more pressure on the user to hit with the perfect trajectory.
Some people prefer the "U-hook" swivel. The U-hook is a little easier to dismantle and adjust than the hook and ball, though it still takes some elbow grease (or maybe a pair of pliers) to remove the pin. This style of swivel does not jump. One downside of the U-hook is that it does not respond well to hits from the side.Finally, there are chain link swivels. These allow for incredibly fast action and rebound, and the chain link design lets the bag move in any direction.
Ringside's E-Z Pro Swivel is a personal preference because the shank is so narrow, which tightens up the bag's rebound. It's a great option for straight speed work, though it's not ideal for advanced maize bag-style drills and freestyle accuracy training.
5 Best Speed Bags for Beginners
1. Contender Fight Sports Speed Bag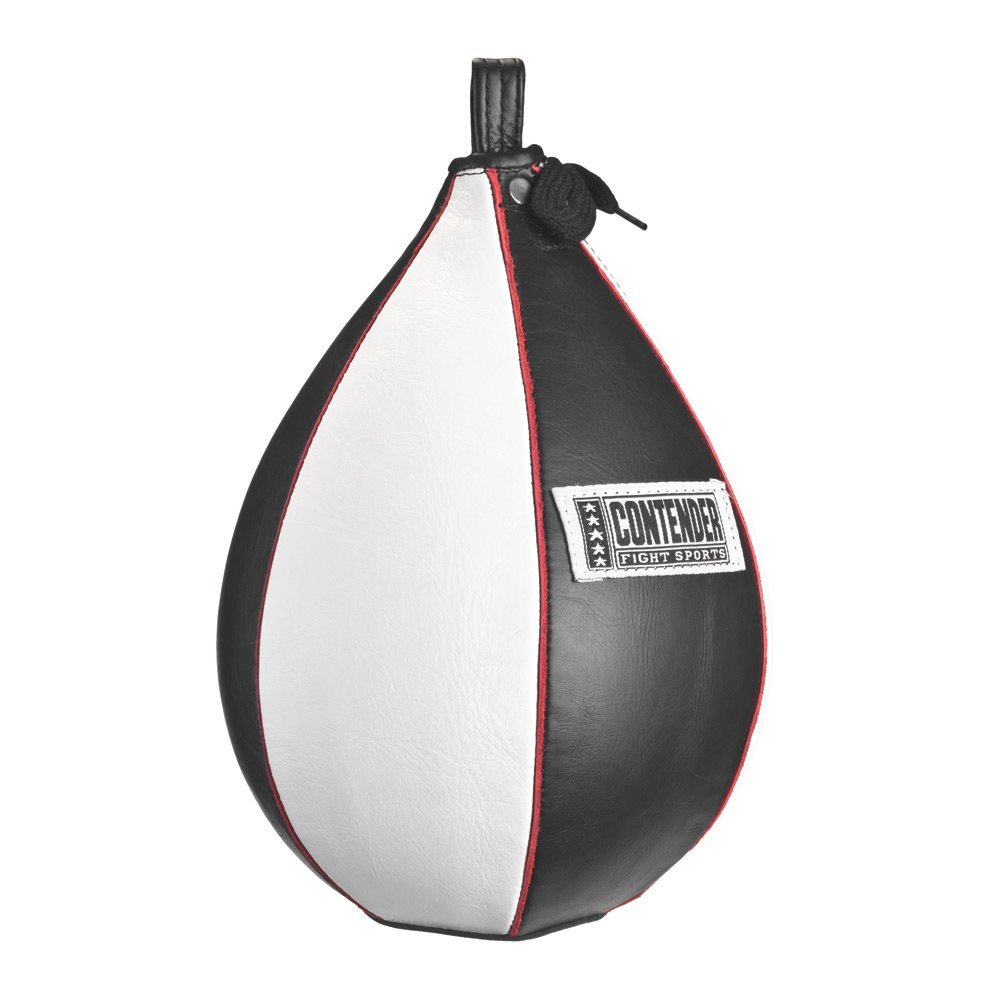 The Contender Fight Sports Speed Bag is the most affordable of our top-5, and it's a smart beginner's option.
Contender has a large catalog of products ranging from the top of the line to the bottom of the barrel, but the Fight Sports Speed Bag is one of their better pieces of equipment. The thick leather exterior holds up well and cushions the bag's impact, slowing the action slightly to make for easier learning.
The bag's shape and stitching hold up well, too. However, the bladder does require semi-regular inflation, so this may not be the best option for those without easy access to an air pump.
Advanced fighters may miss the classic shape and speed of high-priced bags, but this is a quality, cost-effective option for a speed bag novice.
2. Everlast Elite Leather Speed Bag
The Everlast Elite Leather Speed Bag is next on our list. This inexpensive bag performs surprisingly well, forcing us to reconsider the "Neverlast" reputation that Everlast's department store gloves earned them years ago. For such a small bag, it's quite tough, with quality seams and stitching, and the price is right.
This bag's small size make it ideal for the coordination training benefits outlined earlier, but it's not too fast for a newbie to get the hang of. The bladder fills quickly to a maximum of 4 PSI. Be careful about throwing power shots on this bag, as it's susceptible to wear from heavy hitters.
This is a minor point, but still worth mentioning. If the glossy stock picture sells you on this bag, you might be disappointed; it's matte leather. Fine material, just not exactly what's pictured.
3. Ringside Apex Speed Bag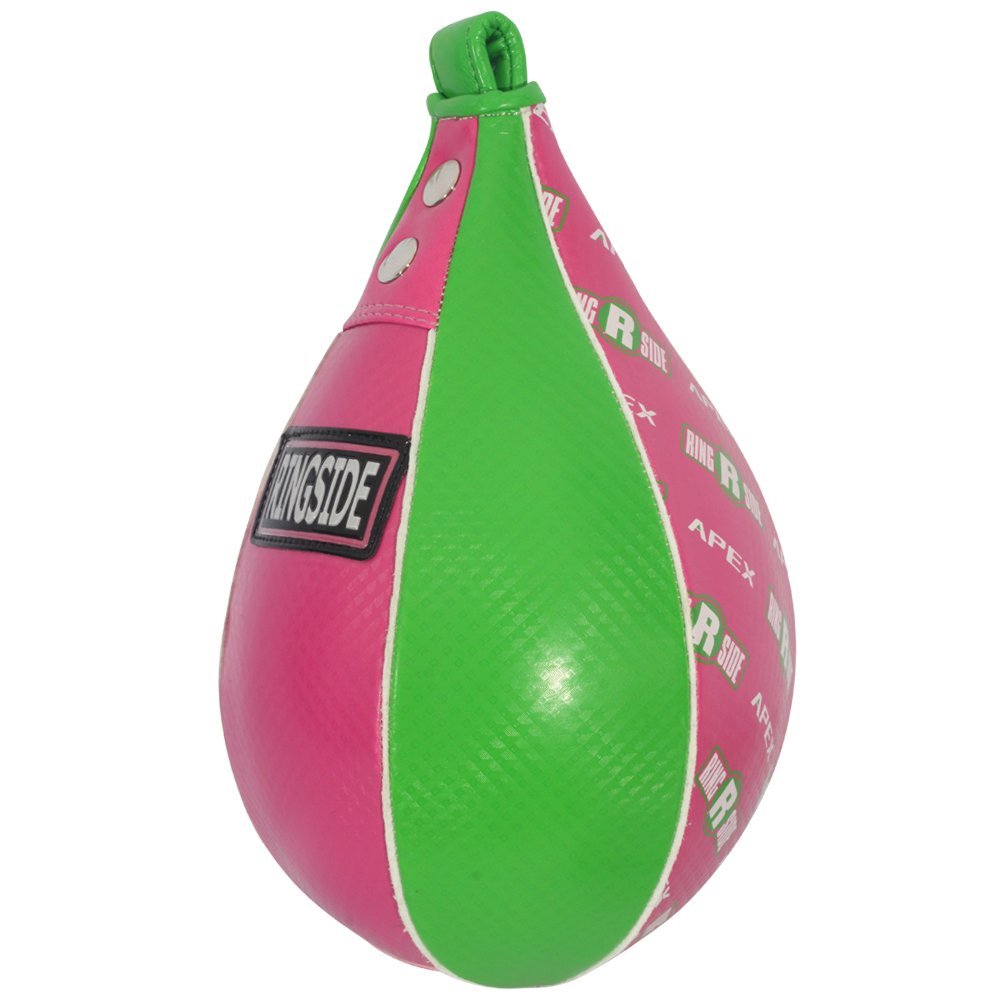 The Ringside Apex Speed Bag is a flashier option, but the price doesn't reflect that. It's only a few dollars more than the Everlast Elite. The brightly colored synthetic leather will be a selling point for some, and a reason to pass for others.
Don't mistake the style for a lack of substance; the reinforced, triple-stitched seams and latex bladder held up to all the testing we could muster. The bag was slightly out of shape when it first arrived, but we beat it back to normal after the first few sessions.
The shape of this bag gives it some unique advantages for beginners. The body's sleek cut rewards "perfect" impacts, while bad connections can offset the return angle slightly. In other words, it works best with quality impacts, which isn't ideal for strike volume and efficiency but keeps you honest about your technique.
4. TITLE Boxing Gyro Balanced Speed Bag
The TITLE Boxing Gyro Balanced Speed Bag is a throwback to the discontinued Everlast 4200 9×6" bag that was a boxing gym staple in my area for years. Those models retained air very well, and this is bag is no different.
The term "Gyro Balanced" doesn't have a clear meaning, and their website isn't much help, but this speed bag is definitely balanced, with a smooth and consistent rebound that makes for good training.
The extra-small 4×7" version is better for hand-speed and endurance work than power punching or slower-paced learning. Beginners who want to slow things down can deflate to 4 PSI instead of the recommended 5; deflated bags are slower, more forgiving for slightly off-center strikes, and will be easier on your hands.
5. Cleto Reyes Small Platform Speed Bag
The Cleto Reyes Speed Bag is the most expensive option on our list, but you definitely get what you pay for.
Cleto Reyes has always been a respected boxing brand, and this bag makes it easy to see why. It has a true teardrop shape that holds up well very well. The head leather exterior is extremely durable and will easily outlast the bladder (this product comes with two), but it's soft enough to comfortably use with bare hands. Overall, it is a very tough bag that will hold up long enough to give you your money's worth.
This bag performs extremely well with a perfect rebound. The extra small is only 5×8", and it really flies, so make sure you're buying it for the right reasons.
Wrapping Up
This buyer's guide for beginners was written after nearly two decades of hammering speed bags of all different shapes, styles, and sizes. On behalf of the Warrior Punch team, I hope it helps you find the right bag at a reasonable price.
Be sure to check our beginner's guide to mastering the speed bag to find out how to use your shiny new piece of equipment!